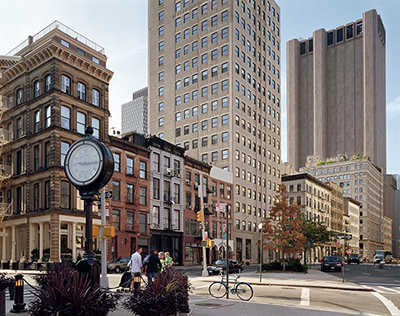 Tribeca is short for Triangle Below Canal Street, and this stylish lower Manhattan neighborhood runs from, you guessed it, Canal Street to Park Place and from the Hudson to Broadway. Once an industrial district defined by its warehouses, Tribeca has reinvented itself as a surpassingly hip, understatedly sophisticated Manhattan residential neighborhood that is... still kind of defined by its warehouses. Many of Tribeca's historic old industrial buildings have been refitted as luxury lofts or high-end retail, while many others have been replaced by new residential buildings offering some of the most distinctive and distinguished apartments for rent in Manhattan.
While Tribeca is best-known for its popular nightspots, sophisticated dining and luxury shopping, there's more to the neighborhood than opulence. Tribeca is still a thriving arts community, albeit thanks more to the neighborhood's art galleries and the Tribeca Film Festival than the presence of actual artists, who have long since been priced-out of this poshest of neighborhoods. There's more to do in Tribeca than seeing and being seen, in short, and the neighborhood's distinctively open feel, stunning architecture and enduring cool have made it one of the most desirable places to live in Manhattan. Of course, all those fabulous luxury rental apartments don't hurt.
The amenity-laden luxury rentals at 88 Leonard and Tribeca Tower rank among the most luxurious rental apartments in Manhattan. Some of the most stunning downtown views in Manhattan can be seen from the rental flats at 111 Worth Street, while the apartments for rent at The Saranac combine modern luxury and understated, classic design elements. While they're disparate in design and character, the rental apartments in Tribeca have one vital aspect in common: they're among the most sought-after apartments for rent in Manhattan.