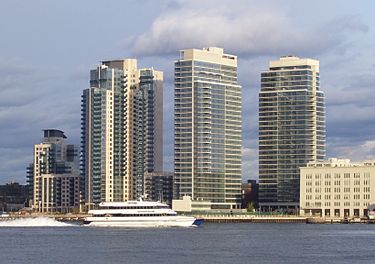 Williamsburg is quickly becoming one of New York City's hottest neighborhoods. One of Brooklyn's rapidly developing areas, Williamsburg borders Greenpoint, Bushwick, Bedford-Stuyvesant, and Ridgewood. Over that past few years it has become known for its concentration of performing arts venues, galleries, boutiques, and fine dining. Like many Brooklyn neighborhoods, Williamsburg manages to synthesize history with a booming youth culture.
Williamsburg is a neighborhood that never stops. By day, bike across the historic Williamsburg Bridge, shop at the Brooklyn Flea Market, or stop by Beacon's Closet for vintage thrills. By night, see a live performance at the Music Hall of Williamsburg, take in the night-life at one of the many lounges and bars, or even take a tour of the iconic Brooklyn Brewery. Originally a hub for heavy industry, today Williamsburg is a mix of multi-family homes, historic industrial buildings like the Domino Sugar Factory, and a rapidly increasing amount of luxury waterfront properties.
Immigrant populations who have lived in Williamsburg since the early 20th century still make up a critical portion of the population, but the neighborhood has been attracting a recent influx of new residents, especially around Bedford and its L train subway stop. Thanks to the 2005 rezoning of the North Side and Greenpoint's waterfront, the district is zoned to accommodate waterfront park space, esplanades, and even residential construction. The Williamsburg Bridge connects Manhattan's Lower East Side to Northern Brooklyn at its entry in WIlliamsburg and with the L, J, M, Z, and G trains, commuting into the city is a breeze.
Too many results? Narrow down your Manhattan apartment search using our Advanced New York Rental Search technology.