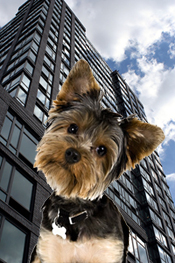 Lower East Side luxury rental The Ludlow has more than one thing going for it, but among these is a location couldn't be more quintessentially Lower East Side. The blockbuster new LES rental sits just on the south side of Houston Street, across the street from the iconic (and incredibly delicious) Katz's Deli (and a short walk from such other old-school LES food landmarks as Russ and Daughters and Yonah Schimmel Knishery) and a short walk from circa-now LES haunts as varied as the posh Rivington Hotel and pioneering rock venue/bakery Cake Shop. But while few Lower East Side rental listings can boast quite as iconically a Lower East Side address as The Ludlow, the new construction luxury rental building has always seemed something of an outlier. The tallest building for blocks around, the stylish, glassy Ludlow couldn't look less like the humble ex-tenements that surround it. Which is a compliment of sorts, because The Ludlow is pretty great looking and Katz's (while incredibly delicious) is decidedly not. Instead of lording its good looks over the 'hood, though, The Ludlow is trying to be a good neighbor on the Lower East Side. At least when it comes to pet-related policies.
The Ludlow is a pet-friendly building, but its love for renters' pets is not unconditional, Curbed's Joey Arak reports. "The big building at Ludlow and Houston Streets requires all cats and dogs to be spayed or neutered before moving in," Arak writes. "That command comes from the top: The CEO of Edison Properties, developer/owner of the three-year-old building, is a pet lover and chairwoman of an animal shelter." Of course, whether you live at The Ludlow or any other Manhattan rental building (or condo, or wherever), it's a good idea to spay or neuter your pets, for a myriad of reasons. In the New York Times, Christine Haughney notes a reason beyond animal-related altruism why The Ludlow's ban on un-fixed pets makes sense.
"The policy is landlord-friendly," Haughney writes. "After the surgery, pets are better behaved and less likely to leave their mark on walls and floors." Haughney reports that there have been no complaints from the pet-owning population at The Ludlow, and there certainly won't be any in a borough that has long gone out of its way to ask Manhattanites to spay and neuter their pets. In matters animal-related, then, The Ludlow appears to be just as big a success as it has been on the Manhattan luxury rental market. Which is good news for all involved, and proof that even big, glassy luxury rental buildings can be good neighbors.