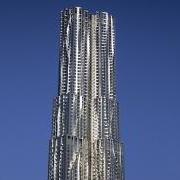 Given all the attention that NYC real estate heads gave 8 Spruce Street, the game-changing new luxury rental building in the Financial District designed by Frank Gehry, it's something of a surprise that there are things about the building we don't already know. Any Manhattan real estate watcher can quote you the starting prices for studio apartments for rent at 8 Spruce Street -- around $2,600, if you were wondering -- and of course the name of the star architect behind this most well-observed of Financial District rental listings is right there in one of 8 Spruce Street's alternate names, New York By Gehry. But for all this celebrity luxury rental listing's sky-high profile, it's something of a secret that 8 Spruce Street belongs among on any list of green rental listings in Manhattan. And while that secret is out, there's also a reason why 8 Spruce Street isn't flacking its green building bona fides.
"Last year, Gehry raised more than a few eyebrows when he said that he felt LEED certification was often awarded for 'bogus stuff' and that climate change and sustainable design are 'political,'" Inhabitat's Yuka Yoneda writes. "He also mentioned that he didn't feel that the costs associated with green buildings would pay for themselves 'in your lifetime.' Given Gehry's thoughts, it would have been surprising if his new tower were going for LEED." Gehry eventually walked back those comments -- which happen to be incorrect, at least insofar as the benefits of green building goes -- but he's not alone in his issues with LEED, the third-party green building certifier that increasingly dominates the green building scene.
In his interview recanting some of his earlier feistiness, Gehry admitted that his beef, to the extent that it exists, is with LEED and other third-party green building certifications, not with the idea of green building itself. And his track record bears that out, as Gehry has designed numerous green buildings around the world over the course of his Pritzker Prize-winning career. And he has done the green buidling thing again at 8 Spruce Street, which has everything that such blockbuster Manhattan green building listings as The Solaire, Emerald Green and The Corner have, in terms of energy-efficient fixtures and finishes, low-e windows and other such green building elements. All it lacks, it turns out, is a LEED-certification plaque in the lobby. Well, that, and the wish to publicize just how green a building it actually is. No news that interesting was going to stay secret for long, though.