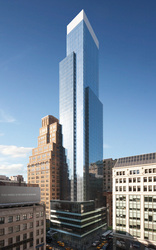 We know what The Continental is -- it's a new luxury rental at 32nd Street and Sixth Avenue in Manhattan, and it has been one of the most popular luxury rental listings on Luxury Rentals Manhattan since it began leasing in mid-January. What's harder to pin down about The Continental is what neighborhood it's in. By our guidelines at Luxury Rentals Manhattan, the new luxury rental at 32nd Street and Sixth Avenue is filed under Chelsea rental listings, and that categorization passes the initial shrug-test. But The Continental is a shorter walk from the Empire State Building than it is from The High Line, and nearer to Madison Square Garden than Chelsea Market, which could see it filed under Garment District rentals or Clinton rental listings. In this sense, The Continental has something in common with Emerald Green, a blocbuster rental listing on 38th Street that appears to exist in several neighborhoods at once. One thing that is not subject to debate about The Continental, though -- and another thing that it has in common with Emerald Green -- is that it belongs on any list of Manhattan's most intriguing new luxury rental listings. Wherever it is, The Continental is a hit.
The success of The Continental – which quickly emerged as one of the most popular Chelsea rental listings on Luxury Rentals Manhattan, and as a favorite of our agent network – came after the project was rebranded, but has nothing to do with marketing strategies. (The erstwhile Tower 111 ran into financial trouble during the NYC real estate downturn, only to emerge months later as The Continental) The name change has nothing to do with what has made The Continental a blockbuster, though. Glowing reviews from real estate sites like Curbed and all-purpose luxury blogs are proof of that.
Instead, The Continental has made its name the old-fashioned way – with a stellar slate of amenities that includes a pair of landscaped terraces and a heated 50-foot pool, and with 338 spacious, gracious rental apartments. The apartments for rent at The Continental get a lot out of their floor-to-ceiling windows, which range up to 10 feet in height – a lot of natural light, a lot of stunning skyline views, and a lot of the airy openness that can be so difficult to come by even in the most luxurious luxury rental listings. (Check out the LRM listing for The Continental for more) In short, The Continental is the total package – a blockbuster building by any neighborhood's standards, and one of the more promising new rentals in Manhattan.