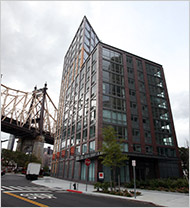 When most people begin looking for a luxury apartment rental in Manhattan, several districts tend to come to mind immediately. There's the sought-after high-gloss, high-culture vibe that comes with SoHo apartment listings, the famed luxury of Upper East Side rental listings, and the perpetually trendy East Village and its apartments for rent. But there's one New York City area of rapid growth and expansion that twenty years ago wouldn't have been on anyone's apartment-hunting list: Roosevelt Island. Once saddled with the less-than-flattering nickname "Welfare Island," this former backwater in the middle of the East River is an afterthought no longer, as a boom of new construction condos and luxury rentals on Roosevelt Island suggests. But here's the biggest sign of Roosevelt Island's rising prosperity: People are actually moving there. Quickly and in serious numbers. Seriously.
Roosevelt Island's population has shot up to 14,000 from 9,500 just ten years ago, according to Crains New York. Riverwalk Crossing, a 242-unit rental building, is fully leased and the island's new Riverwalk Court is 80% sold. Three more luxury buildings are planned for construction. With a mix of affordable housing, apartment rentals, condos and co-ops, Roosevelt Island's residential scene is entering a slow boom despite only having a handful of takeout eateries, a single Starbucks and a one lonely Duane Reade. So what's the draw?
The island is close enough to Manhattan for a commute while being far enough away to be nothing like its island sister. Lovely views without the hefty high-rise price tag; quiet, safe streets; upcoming renovations to the downtown area; and a close-knit community, Roosevelt Island has more charms than the island's history -- which includes stints as a mental institution and smallpox hospital -- would suggest. Green space and (of course) river views are everywhere, and Roosevelt Island's neighborhood-y vibe has long been one of its main selling points. Less amorphous selling points include the renovated 8.5-acre Southpoint Park, which will open this summer, and a new four-acre park currently in the works. Even California's Stanford University has its eye on Roosevelt Island, expressing interest in building an engineering school there that will boost the island's collegiate quotient considerably.
Downsides? Besides the lack of Shake Shacks, transportation is an issue, with only a recently-reopened tramway and the ever-crowded F train as Roosevelt Island's only keys to the outside world. New Construction Manhattan, among others, will go out on a limb with the suggestion that all that may change sometime soon, too -- expanded ferry service between Brooklyn, Long Island City and Manhattan is coming very soon, and Roosevelt Island would make a logical stop on that route once things get going. In short, after years off the radar, Roosevelt Island is finally making some noise -- and promises to make a great deal more in the future.