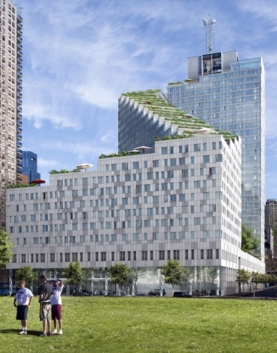 The Mercedes name conjures up images of luxury and grandeur. These same images that are associated with the car company are associated with Mercedes House, which gets its name from the fact that it houses the Mercedes-Benz of Manhattan showroom. It is safe to say that this is one of the few opportunities in Manhattan to live above a car showroom. Unfortunately, it will not be like Oprah, where everyone gets a free car, but there are many other reasons why this building is being talked about.
One of the more notable things about the Mercedes House is its interesting design. The building rises up with a step-like pattern, one section being a story higher than the next. At one end of the lot, the building turns and continues its step-like like ascent into the skies.
This spectacular rental condominium building in Clinton is nearing completion. There is only one section of the building that needs to be completed, but condominiums are already on the market. Mercedes House is one of the newest condominium buildings with luxury rental listings to hit the market in New York City. A truly unique building is a seemingly perfect fit for the unique city that is Manhattan.