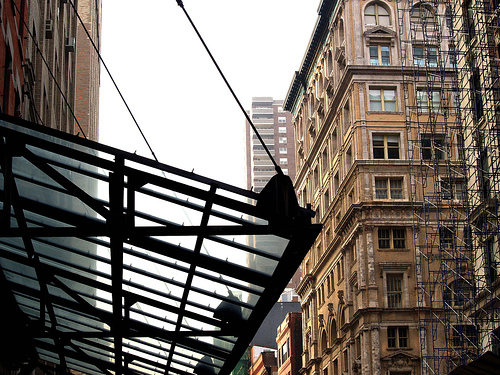 Rent hikes. A stale array of Manhattan apartment listings. That's the rental market scene NYC-apartment-hunters stretching from Harlem to FiDi have been testifying to. The continuing drag in the new-development pipeline (a repercussion of the 2008 stock market crash) coupled with some of the lowest vacancy rates the city has ever seen have dispersed most incentives for landlords to keep rents low. But although rent is up across the board, where in the city is the priciest? The two neighborhoods that take the cake are among Manhattan's most popular -- the gilded Bohemian paradise that is SoHo, and chic, strutting Tribeca, where trends are born.
Since the economic recession, the heftier price tags on NYC apartments have been confirmed by multiple market rental reports. One of the latest was done by a company called RentJuice, a San Francisco-based provider of apartment marketing software for brokers and property owners. But pan the camera back. What is the average rent for a NYC dweller? According to RentJuice's number crunching of 65 Manhattan neighborhoods, it rings in at $3,267 per month. The cost to live in Tribeca is twice that amount with monthly rent averaging $7,782. A niche in SoHo (and forget a rock artist's loft) is $5,151 per month.
But let's put numbers into context. Manhattan market rental reports show renting trends, and the complexities of renting in one of the most bustling cities in the world. Yes, there aren't any foreseeable breaks for renters in the near future, but armed with the knowledge of NYC renting trends, residents are better prepared for conversations; and can hopefully do more to negotiate a rent hike than hang a stupefied jaw. MNS's recent market report found, for instance, that in SoHo the average rent for a non-doorman studio has declined by 4.3% over the past year (while average rent for a studio-with-doorman has increased by 4.3%). Additionally in Tribeca, MNS reported the average rent for a non-doorman studio increased by 8.6% ($357). In the city at large, average rent for non-doorman studios decreased 1.85% from the 2010 rental market year. So if you're apartment hunting on the assumption that non-doorman buildings cost less, beware that a move to Tribeca will take you into a different price bracket.
But the plethora of market reports doesn't encourage more developments or lower rent. Indeed, as we noted previously, Manhattan real estate is more affected by the stock market and financial institutions than both renters or developers would like to admit. The bottom line is that rents are going up. But knowing where gives renters a chip on the negotiation table. Use it well. Here at LuxuryRentalsManhattan, we'll continue to keep an out for steals and hikes.