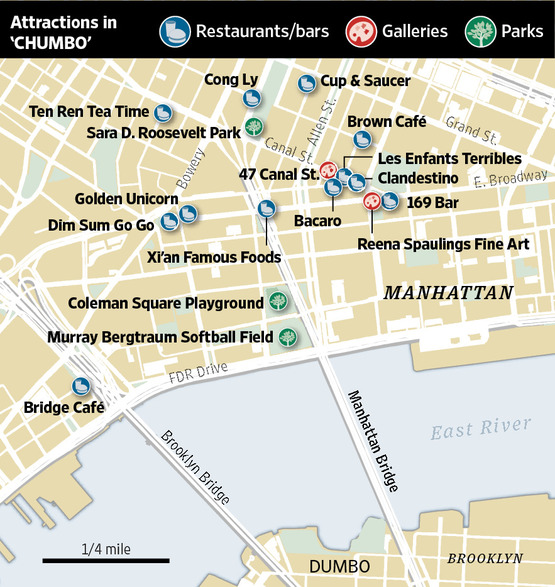 When it comes to nicknames, acronyms and word blends, there are no shortage of them in Manhattan real estate. Investors and developers alike often generate and promote catchy neighborhood names such as NoMad (North of Madison Park) in order to generate buzz around new construction developments and micro-neighborhoods. While long time neighborhoods such as Soho (South of Houston Street), TriBeCa (Triangle Below Canal) and FiDi (Financial District) have slowly but surely crept into our everyday vocabulary, others are just beginning to emerge and fighting to stay relevant in our (sub)consciousness. The newest addition to this trend is Chumbo in Lower Manhattan.

While the name Chumbo refers to neither the word "chum" nor the 1941 Disney animated film about the baby elephant with floppy ears and a heart of gold, it does refer to the selective collection of blocks between Manhattan's Chinatown and Brooklyn's Dumbo. Although Chumbo the nickname is a fairly recently development, Chumbo the micro-neighborhood in Chinatown has long been known by its residents as "Two Bridges." To this day, part of the area still retains much of its earlier history, from the rent-stabilized walk-up tenement apartments to the tight-knit communities of working class New Yorkers. However, recent new developments in the area and gentrification have caused great tensions between long-time and recent residents. Many families who have been living in the area for years, and even generations, fear that further gentrification would drive up the price of rent and subsequently force them to relocate to more affordable areas.
Compared to other Manhattan neighborhoods that are well-loved and populated by aspiring and established artists such as Chelsea or SoHo, luxury Manhattan rentals in Chumbo are considerately lighter on the bank account. A similarly decorated and size apartment in Chumbo on the market for $2,900 could easily fetch nearly $7,000 a month in Dumbo. As many other Manhattan micro-neighborhoods could attest, nicknames come and go and longevity is often the exception rather than the norm. Like nicknames, buzz in Manhattan real estate is only as sustainable as the surplus and supply of viable housing in the areas themselves. Besides, in a city as fast paced and trendy as New York City, "North of Little Italy" just doesn't have the same ring as NoLita.