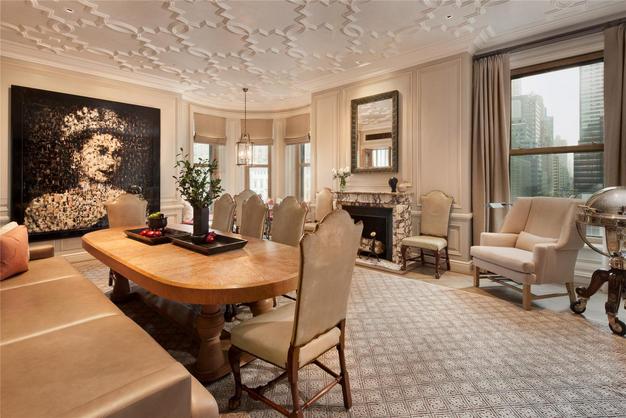 Last week the Astor Suite in the Plaza on 768 Fifth Avenue hit the market for $165,000 a month, officially becoming the most expensive apartment in Manhattan. The Astor Suite is a 5,087 square foot 4-bedroom 6-bathroom luxury home. Jurgen Friedrich, the owner of Esprit, bought the Midtown West residence for $25 million in 2007, and turned it around the next year at an asking price of $55 million. We wrote earlier about how more New York residents are taking up an interest in the most luxurious Manhattan rentals. Maybe Friedrich saw the article because now, after three years without a buyer, he's put up the apartment for rent at its current superlative asking price. We all know luxury apartments for rent at places like the Plaza don't come cheap, but this story got us wondering what some of the other highest rental prices in Manhattan were. We looked around, and found that rental inventory starts to fall off a little before $100,000, but there are a few places that can compete for the title of "most expensive in Manhattan."
Apartment 33A in the Waldorf Astoria on 100 East 50th St. has an asking price of $150,000 a month, and until last week was the most expensive rental in the city. It's a five bedroom, 6,000 square foot unit in Midtown East. It's also the former home of songwriter Cole Porter, and comes with an entry gallery, high ceilings, a private entrance, and a full-on maid service characteristic of the Waldorf's "hotel within a hotel" reputation.
The penthouse on 42 West 58th St. is the third most expensive apartment in Manhattan, with an asking of $103,320 a month. It's a 900 square foot one-bedroom furnished room with a wraparound terrace and hotel-style maid and concierge service. The fourth most expensive is a townhouse on 214 Lafayette St. It's a five-story, three-bedroom pre-war in Soho that boasts an indoor pool, an enormous private terrace, and a basement. It's going for $100,000 a month.
Looking back on the November rental market report, the neighborhood with the highest average rental was TriBeCa. Non-doorman buildings in the downtown neighborhood went for $4,215 last month, while doorman buildings went for $3,200. In the neighborhoods represented by the apartments we just mentioned—Midtown East, Midtown West and Soho—doorman buildings went for an average of $2,440, $2,774, and $3,195 respectively. Which means they're messing with the average. It also means they're probably a lot of fun to live in.