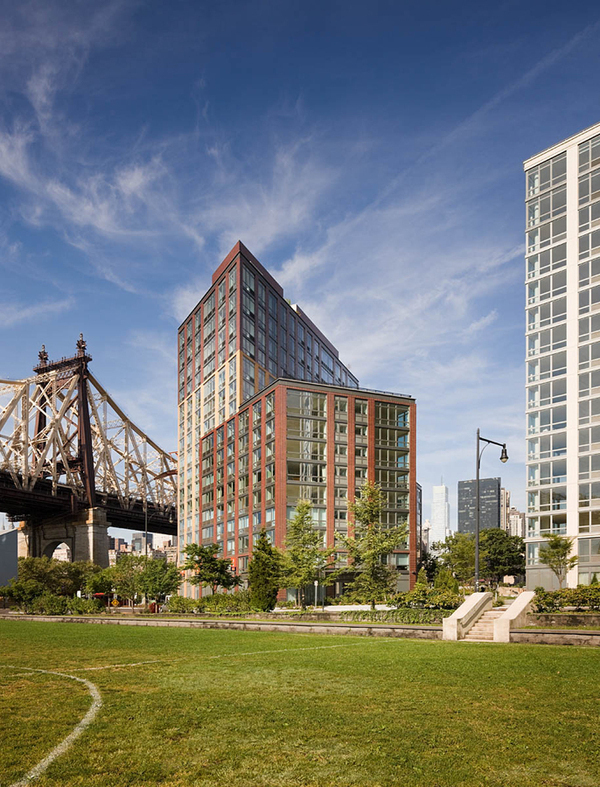 It's no secret that Roosevelt Island has always been Manhattan's stepchild. The 2-mile long island sits right across from the Upper East Side in the East River, but no one has ever confused the two. The Brutalist-style apartment complexes and limited retail and dining options couldn't stand in starker contrast to the Upper East Side's glamorous pre-war apartment buildings and high culture. But changes are happening as we speak. A joint venture between Related Companies and Hudson Companies is building a totally new neighborhood on Roosevelt Island called Riverwalk. Plus, Hudson Cos. recently took over the 100,000 square foot retail corridor from the Roosevelt Island Operating Corporation, a state agency that developed and manages the Island, and New York City's best known chain stores are already moving in. What this means for Manhattan apartment renters is simple: luxury apartments on Roosevelt Island are a steal right now.
For years Roosevelt Island has been known as "Welfare Island," mainly because it feels very institutional. Indeed, the ROIC built the housing stock in the 70s and 80s, and the style of that era was to build imposing, stark buildings without any ornamentation, exactly the kind of buildings associated with state-run projects. The ROIC still owns and manages those apartment buildings to this day. Since it is something of a world apart, it has long been an enclave for middle-income Manhattan apartment renters; apartments in Roosevelt Island have always been cheaper than similar spaces in Manhattan, and rents on the Island are still well below Manhattan rates. Manhattan renters frustrated by low vacancy rates, high rents, and a lack of supply have turned to the newly constructed apartment buildings in Roosevelt Island in lieu of living in a Manhattan neighborhood.
Although not many people have noticed, Related/Hudson Cos. have already built 6 of the 9 buildings that make up the new Riverwalk sub-neighborhood, and many of those have already been fully leased according to David Kramer, a principal of Hudson Companies. Riverwalk is a large complex located just south of the older buildings constructed by the ROIC, a mix of luxury condos, luxury rentals, affordable housing, and staff housing for employees of Memorial Sloan-Kettering Hospital, Weill Cornell Medical College, and even New York University. All of these new apartment buildings are leaps and bounds ahead of their older counterparts, and collectively they're transforming Roosevelt Island into a viable alternative to Manhattan, especially because two of those buildings – Riverwalk Place and Riverwalk Landing – contain seven store spaces between them.
This is a bigger deal than it seems. The biggest complaint of residents of apartments in Roosevelt Island has always been the lack of retail options, and the addition of new stores changes the whole character of the Island. According to Kramer, six of those seven spaces have already been leased, and after the RIOC turned over control of he 33 existing retail spaces along the main corridor to Hudson Cos. last summer, a Starbucks and a Duane Reade opened up. Stores are being drawn to the island because the population is growing rapidly: the population of Roosevelt Island grew from 9,250 residents in 2000 to about 12,000 today, and when Riverwalk is completed city planners estimate that the population will reach 16,000. And this is to say nothing about Cornell University's upcoming science and engineering campus. While it is not due to open for about a decade, this ultramodern structure will transform the luxury rental market, character, and reputation of Roosevelt Island forever.