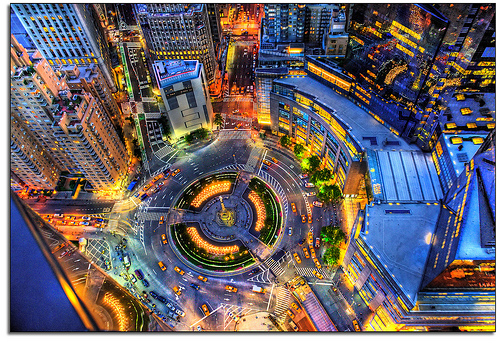 With the number of high profile buildings that Lincoln Square contains today, it is hard to believe that this neighborhood was once regarded as an eyesore in New York City. It was with the arrival of the Lincoln Center for the Performing Arts on 65th Street and Broadway that the neighborhood began its transformation from one containing dilapidated buildings and an unwelcome atmosphere to a beautiful one replete with swanky, urban condos and trendy hotspots. Lincoln Square has come a long way from its pedestrian past, and has now become "the place" to live.
An article in The New York Times notes this metamorphosis by calling attention to the several condominiums lining up Central Park West, such as Century, a rare pre-war condominium, and the limestone towers at 15 Central Park West, a 2008 entry to the neighborhood. Other noteworthy buildings here include The Ormonde, a landmarked building that today offers luxury apartments for rent, and Trump Place, which, true to its titular namesake, blends opulence with understated comfort.
Families have it good here as well—besides the parks that seem to surround the area, it is also served by a number of public and private schools, including Public School 199, which scored an A on the most recent city progress report. Culture enthusiasts would find their oasis here, while gourmands would have a number of big name restaurants to choose from. According to StreetEasy.com, the median rent for an apartment here comes to $4,000 a month, and with stunning river and city views added to the above reasons, it's not tough to see why homes in this premier neighborhood are in high demand.