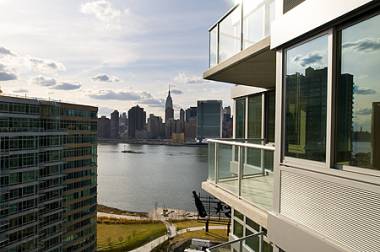 New York City is at the forefront of real estate innovation; a fact that can be seen in each of the city's five boroughs--Manhattan is known for its dazzling skyscrapers while Brooklyn emanates a quirky charm. It's Queens however, that is about to rise above the rest. TF Cornerstone recently announced that development of its 41 story rental at 4545 Center Boulevard in Long Island City is well ahead of schedule. The building is an integral part of the company's 21 acre East Coast Development project; earning the title of TF Cornerstone's fifth and largest building.
According to The Real Deal, potential renters can begin leasing in April 2013, although no price has been set. The Long Island City rental will contain a healthy balance of studio, one, two and three- bedroom apartments. In addition to these essentials, renters will be able to enjoy a plethora of amenities including 1,000 parking spaces, tennis courts, a dog run and indoor and outdoor gym facilities.
TF Cornerstone is in the process of developing another building a few doors down from 4545 Center. 4610 Center Boulevard will be a 25 story building that sits on the edge of Gantry State Park. The building's 585 units will be the epitome of luxury. Just like its Center Boulevard counterpart, 4610 will be available to lease in 2013.
4545 and 4610 will be two of seven buildings that will occupy space in the East Coast Development project. 4540 Center Boulevard is ready to rent, boasting 60 listings that range from $2,300 to $4,800 depending on the renter's room preference. The company's other completed buildings--4615 and 4720--contain a variety of apartments with amenities to the most luxurious condos in Manhattan. When all is said and done, TF Cornerstone will have built 2,615 rentals and 184 condos.
The sudden aggressive development of Long Island City will come as no surprise to those who have been following the town's growth. It was recently reported that Long Island City will become the new hub of technology and start-up companies due to its acquisition of a tech-incubator space. If all goes according to TF Cornerstone's plan, this Queens town will become the crown jewel of New York's real estate market.