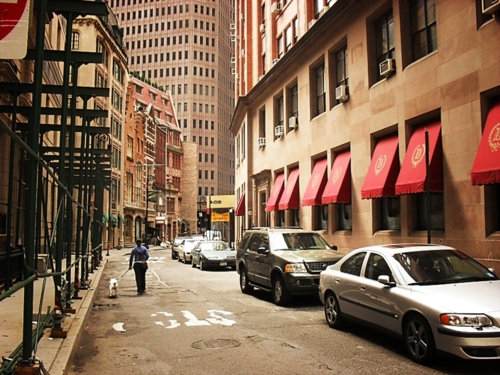 For New Yorkers, the refusal of rent-stabilization begs indignation, shock, or simply confusion. In the Financial District, apathetic responses to the option to convert units in eligible buildings to rent-stabilized apartments has become an unusual phenomenon. Up to 16 Lower Manhattan apartment buildings received tax breaks since 2006, requiring the apartments to be rent stabilized. Under the Section 421-g Program, the NYC Department of Housing Preservation and Development designated the Lower Manhattan Abatement Zone, defined as the area south of the centerline of Murray, Frankfort and Dover Streets as an area eligible for partial exemption and abatement.
Specifically, the program incentivized developers to convert aging, non-productive office buildings to residential units as a means to revitalize the area. The 421-g state tax credit resulted in the thousands of new luxury units present today, most of which are occupied by young professionals working in the Financial District. Rent-stabilized apartments are the proverbial gems of Manhattan real estate, especially as they become increasingly elusive. However, only 10 of the eligible residents have actually made the move to convert their market-rate units and claim the privilege.
A key fact concerning the Financial District's usage has made revitalization both necessary and difficult: recent college graduates comprise the majority of tenants in luxury rentals created under 421-g. The apartments are convenient and close to work, but their tenants are not considering permanent residences. At such a transient point in their lives, the young professionals of the Financial District have little invested in the area as a neighborhood. Many will move in a few years, knowing what they can afford. The Financial District is subject to massive rental turnover, but community leaders argue that rent-stabilization, encouraging families to settle down, would bring a more "neighborhood" feel to the area. So far other initiatives have included pushing for the creation of a new district school, affordable housing, and a senior center.
Nevertheless, it isn't the case that the Financial District is devoid of residents who wish to establish permanent residences. In fact, some younger tenants simply haven't heard that their units could be stabilized, and families concur that if they had the option, rent-stabilization may provide enough of an incentive to stay in Lower Manhattan rather than move to the suburbs. Community Board 1 ultimately aims to prove that the Financial District apartment can indeed be family oriented as well--a distinct possibility once neighborhood-oriented initiatives come to fruition.