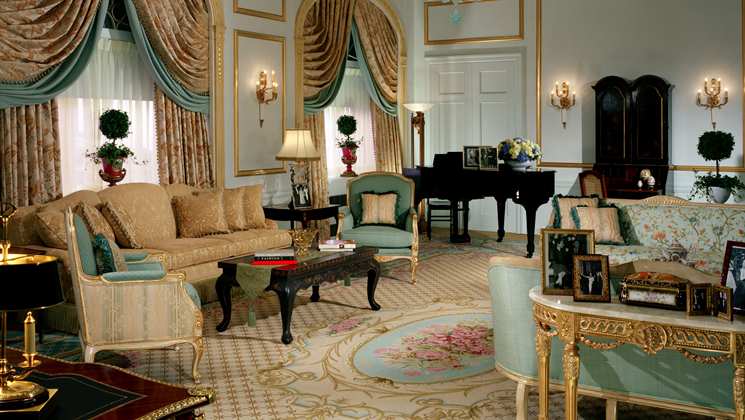 Manhattan rentals have come a long way in everything from appearance to price. As many renovations have taken place to meet the high demand for luxury rental units, rents have also increased in price. Residents can now acquire the same high-end features and amenities found in Manhattan condominiums without having to buy an apartment. Though rents in the city are at an all time high, they are downright average compared to those listed as the most expensive rentals in New York City. Still, there are many who are willing to pull out the big bucks for a luxury Manhattan rental.
Due to a good number of privileged New Yorkers seeking luxury living, the high-end rental market continues to grow. The Manhattan rental market is moving at a slow but steady pace increasing in a high demand for rental units, and with that comes sky-high prices; but for those willing to dig deep into their pockets this is not an issue. Currently on the market are some of the most expensive Manhattan rentals one can find. According to NY Curbed, the least expensive rental on the market of that group is a townhouse on the Upper East Side that costs $85,000 per month. It is comprised of six bedrooms and seven baths with features including a media room, home office, rooftop terrace, fireplaces and an elevator.
Somewhere in the middle is a Tribeca triplex with the asking price of $100,000 awaiting its next wealthy renter. The triplex is comprised of ten rooms with a custom-made glass staircase connecting the floors within this Tribeca mansion. The most expensive rental listing goes to the Waldorf Towers with a five bedroom, six bath going for $150,000 per month. Previously owned by Cole Porter, this unit is comprised of high-quality features including high ceilings, marble entry, a wine refrigerator, double ovens in kitchen and much more. The price has increased by $10k since last year.
Though many New Yorkers are dreading the rent increases in Manhattan, those with high incomes known as the "super renters" are demanding more expensive luxury rentals. Despite the high rents throughout the city, the demand for new rentals are at an absolute peak as the Manhattan rental market continues to strive in an upward progression. The number of expensive rental listings in Manhattan further proves that the high-end rental market is expanding. Those who are willing to pay sky-high rents per month are looking for the same luxury living without the responsibility that comes with owning a home.