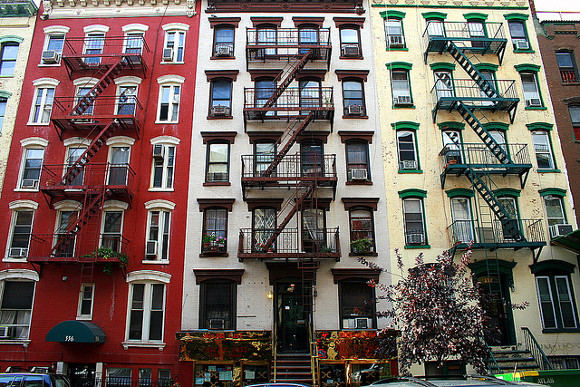 Image Courtesy of WNYC
It's certainly no secret that the cost of living in New York City is outrageous. The food, the entertainment, and worst of all, the housing, are no doubt albatrosses around the necks of city-dwellers looking to take advantage of everything the city's splendors. And, according to a recent report from the real estate research firm, Reis Inc., sustaining one's ideal lifestyle is now harder than ever. The not-so-shocking report states that, for the first time during the second quarter, New York City's average rental rate has surpassed $3,000 and has reached a whopping $3,017 a month.
To put this somewhat exorbitant price in perspective, it's important to understand the markets of surrounding New York boroughs and the 79 other major cities that were tracked by Reis Inc. For example, as The Wall Street Journal reported, Long Island's monthly average rent is a mere $1,614, and New Haven, Connecticut renters are charged an average of just $1,139 per month. Even more unbelievable is what someone could pay if said person were willing to relocate to a less desirable location like Wichita, Kansas and shell out the comparatively meager sum of $522 per month. In addition, New York City was the only city that reported average rents that topped $3,000, and even long-time less expensive areas like Brooklyn and Queens are facing gentrification, higher rents, and an all-around uneasy feeling that the city lifestyle they once knew will soon become nothing more than a fleeting memory.
Of course, changes such as this don't just happen overnight. Historically speaking, as many New Yorkers know, places like Manhattan's Lower East Side were once thought to be nearly uninhabitable and wholly undesirable neighborhoods. Nowadays, finding a reasonably-priced (and sized) apartment in the area would equate to stumbling across real estate gold. In terms of an explanation as to why the rent is now higher than ever, the reasons are seemingly endless. To begin with, it's a simple matter of supply and demand. Vacancy rates are low, and housing options are scarce (especially in the summertime). This scarcity is due to a number of factors, most notably the influx of recent graduates into the city, the limited land allotted to developers and the city's general zoning rules, and the high cost of land. Developers hoping to earn a good profit have been designing buildings with wealthier renters in mind, simply because of the economic benefits. Expensive land means more expensive properties, and for a developer who's hoping to earn the largest possible profit, it makes sense to appeal to a more affluent crowd.
Other contributors to this issue are the fortunate few who scored the elusive rent-controlled Manhattan apartment. Sadly, by clinging to their fabulously-priced apartments, the tenants are, in turn, negatively affecting the prices for everyone else. Through the act of not selling, they are furthering the city's bleak housing supply. Still, the aforementioned issues are hardly the only culprits causing this semi-crisis. Also concerning are the difficulties behind tenant eviction, limited parking, and a great deal more.
Interestingly, New Yorkers are reacting to the shortage in a number of ways. From the sellers' standpoints, the situation is ideal for both themselves and their brokers. High demand means big profits. But for potential renters (and buyers), hesitation yields losses, and the competition is fiercer than ever. Not to mention, in order to avoid the troubles of apartment hunting, many exes who once shacked up in the name of love and convenience are now awkwardly coexisting with their former flames in tiny, stifling spaces. What's potentially more upsetting is the migration of city-dwellers to different areas. People who can no longer afford the cost of living in Manhattan are relocating to greener, more financially realistic pastures. Left with few options, they're living amongst other ex-Manhattanites and creating commuter communities in towns as far as Easton, Pennsylvania. Yet possibly the worst-affected by the soaring rent costs are New Yorkers who are currently living below the poverty line.
As an article from WNYC states, "For a single person, poverty is defined as living off less than $11,500 annually, and for a family of four the amount is $23, 021 a year. Both government officials and public policy experts acknowledge that the threshold is too low, especially in high cost cities such as New York." Simply put, New York appears to be evolving into a city built mainly for the rich. In the year 2011, it was reported that the Bronx had an astoundingly high poverty rate of over 30%. What's more, in the same year, more elderly people were subjected to living in poverty than in previous years, and the distribution of food stamps rose by over 1% from the year 2010. Despite Mayor Bloomberg's attempts to build more affordable housing for the less fortunate, city living has become "…Increasing out of reach…Rents have continued to go up, but incomes have fallen and poverty rates are increasing."
Even the wealthy are complaining about the costs. Despite claims that city living is actually a "bargain" for the wealthy due to its competitive pricing and overall variety of (luxury) options (not to mention its affordability compared to other international destinations), affluent buyers and renters have expressed feeling cheated by the system. The discerning clients within the city's "two-tiered economy" recognize that they're being overcharged, and much like other Manhattanites, they're not happy.
This widespread discontent with the state of the housing market will definitely emerge as an issue in this season's mayoral elections. With Bloomberg leaving and many New Yorkers looking for a way to coexist amongst the city's wealthy, an initiative to promote change within the tight market is likely not too far into the future. As of now, advocates for change are actively working to tweak the system, and all across the internet, New York's concerned citizens are complaining, in an almost synchronized fashion, that the city's average rent has become too damn high.