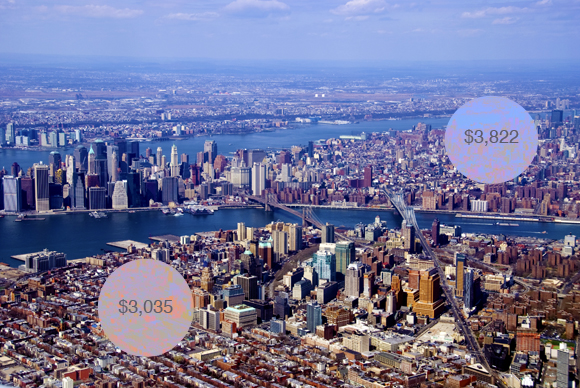 We've all seen the numbers, and it's no secret that Manhattan rents are still up on the year. When you're on an island, space is limited, and prices tend to climb. A popular tactic to avoid high Manhattan rents is to take a train over the East River and rent an apartment in Brooklyn. Well, it appears that the tactic is becoming so popular in fact, as the Brooklyn average rent climbs closer to that of Manhattan's.
According to the Elliman Report, the average Manhattan rent was $3,822 in July—a 1.7% increase from last year. The average rental price in Brooklyn is also up from last year—8.2% to $3,035.
More pertinent to our focus, luxury rentals in Manhattan (priced in top 10% of the market) were at a median of $8,412 in July, which equals an increase of 11.7% on the year. Brooklyn luxury apartments increased 8.8%, up to an average of $6,007, which is largely responsible for the increase in the borough's higher rents.
So, while Brooklyn closes the gap on average Manhattan rents, luxury rentals in Manhattan still appear to be thriving.
Another statistic worth noting is that vacancy, while still low in Manhattan, continues to widen, as it climbed from 1.1% in June to 1.28% in July, during a month where vacancy typically narrows.
Though Brooklyn is beginning to mirror the borough next door, the numbers say that Manhattan will always be Manhattan.