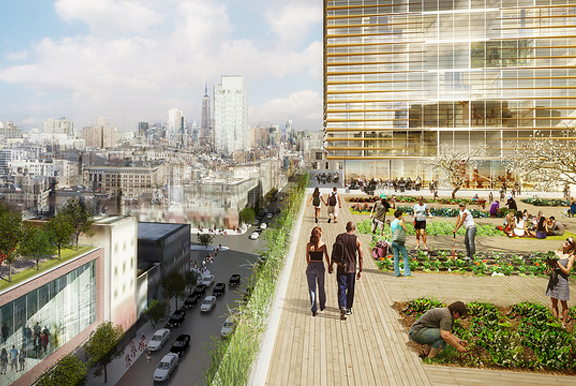 The largest section of undeveloped, city-owned land south of 96th street is finally set for development, nearly 50 years after the area was originally razed for an urban renewal project. The Bloomberg administration has chosen the developers for the six-acre site known as the Seward Park Urban Renewal Area (SPURA) in the Lower East Side.
The mega-project, now called Essex Crossing, concerns city-owned lots around the corner of Essex and Delancey Streets. Bids for the site were won by developers L&M Development Partner, Taconic Investment Partners, BFC Partners and Grand Street Settlement, and will be designed by Beyer Blinder Belle and SHoP.
The new plan for Essex Crossing includes 1,000 new units of housing, of which an unprecedented 50% will be below market rate. Of the 1,000 units, some will be condos and others rentals and will cater to a variety of income levels. The buildings will reportedly range in size from 7 to 22 stories.
While the priority of Essex Crossing is to create housing, the finished product will result in a vibrant mixed-income community, with retail, restaurants, office space, parks, a movie theater, a bowling alley and even an Andy Warhol Museum. The Essex Street Market will relocate from its current location to across the street, while doubling in size to roughly 30,000 square feet on the ground floor alone, with a planned mezzanine of approximately 7,000 square feet.
The Lower East Side, a once working-class neighborhood, has become one of the most rapidly gentrified areas in New York City, as evidenced by the increasing amounts of upscale bars, restaurants, shops and luxury rentals, such as The Ludlow and The Stanton. When the site was demolished in 1967, some 2,000 residents, primarily Puerto Rican families, were displaced. The City is reaching out to those families, giving them first priority of the apartments.
Though this is a huge step for the SPURA project, groundbreaking isn't expected until 2015. For now, these renderings will have to suffice: