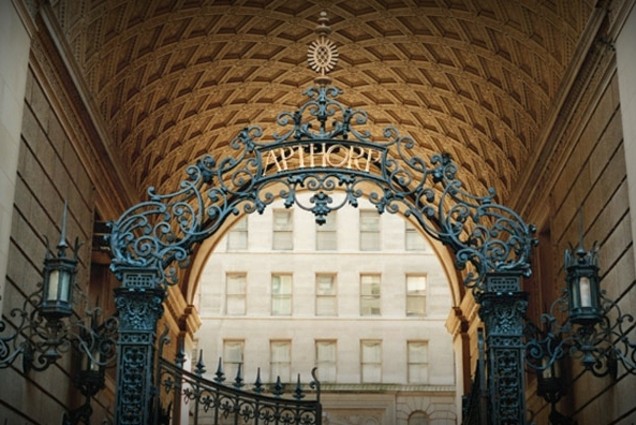 The top floor of the historical Apthorp, a landmarked building located at 2211 Broadway in the Upper West Side, is up for grabs at $14,000 per month. In February, the apartment was purchased for $3,462,050 and has since received renovations and customizations including an additional room and custom Plato cabinets. It supposedly has never been lived in either.
Any other day of the week, this would appear to be your typical high-scale luxury rental listing. There's a catch, however.
According to The Real Deal, the Apthorp's developers have intentions of adding four new luxury penthouses to the roof, which would mean that this top-floor rental might not always be the top floor. The developers met with Community Board 7 in July to discuss the renovation, but a full meeting will follow sometime this month. As the building is landmarked, the board is not expected to take the news well.
The historical Apthorp was completed in 1908 as the city's largest apartment building at the time. The building was designed in the Italian Renaissance Revival style, and features such highlights as elaborate sculptures, a handsomely detailed limestone facade and an iconic archway entrance with iron gates.
The Apthorp made news in 2006 when the building was sold for $426 million, and later in 2008 when the building converted to condos, which, according to the New York Times, earned it a spot as one of the most costly conversions of all time
Interestingly enough, the penthouses at the Apthorp aren't even close to being the nicest apartments in the building, which shows just how much has changed since then. When the building was built, the penthouses were designed as servants' quarters, which are liveable, but certainly smaller than the buildings more grand apartments.
The new design for the Apthorp roof would result in duplex and triplex apartments, which of course would be much larger than the current cozy penthouses. Prices would reportedly range from $2,200 to $3,300 a square foot.