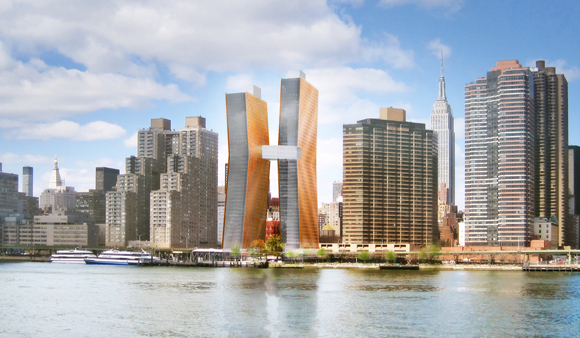 Rendering by SHoP Architects
On First Avenue between 35th and 36th Streets, sat 9.2 acres of undeveloped, muddy land for several years. The owner of the former ConEd site, developer Sheldon Solow, had planned on building two apartment towers. Last year, he sold the property for $172 million to JDS Development, who is following through with Solow's plans. The Midtown East mud pit is in the process of transforming into two SHoP Architects-designed luxury rental towers, one at 40 stories and the other at 49 stories, housing a combined 800 luxury apartments for rent.
Rising over the East River, the towers at 626 First Avenue will be clad in copper, and slightly curved, connecting at their closest point by a sky bridge. Aside from the building's unique architecture, residents will be pleased to know that JDS Development promises an "amenity package superior to all other luxury rental developments." Plans call for amenities such as an infinity edge pool, private cabanas, an outdoor lounge and bar.
The sky bridge will not just be for traversing between the two luxury rental buildings. Inside the sky bridge will be a lap pool, steam room, hot tub, spa area, sauna, squash court, state-of-the-art fitness center, cardio space and more.
The most recent addition to the construction plans is a proposed public park between the two Midtown East luxury rental buildings at 626 First Avenue. Designed by Scape/Landscape Architecture, the 38,000-square-foot park will be criss-crossed with granite and limestone pathways, with a fountain at the park's center.
Last year, the site was flooded during Hurricane Sandy, so the construction plans call for above flood-level mechanical systems, as well as floodgates and backup generators. The park will also include various methods of flood protection.
Construction on the towers at 626 First Avenue began in July of this year, and they are expected to open sometime in early 2016.