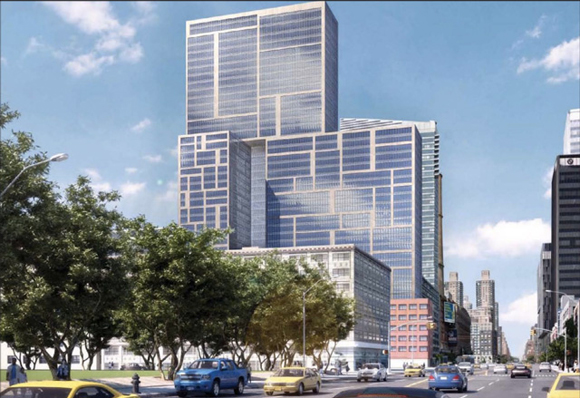 Some massive developments have been hitting the market recently, but newly submitted plans to the city reveal what will become New York City's largest apartment building. 606 West 57th Street in Midtown West will house a record 1,189 apartments in a single building if the proposed plan goes through.
From the renderings, the building itself will be composed of stacked boxes of glass and steel, proving that, "the cantilever craze is now at full throttle," according to NY YIMBY, who spotted the plans. The building, which is projected for completion in 2017, will rise 40 stories over 57th Street. TF Cornerstone's 606 West 57th Street is not located near the supertall buildings rising between Broadway and Park Avenue, but rather along the Hudson River.
It appears that 606 West 57th Street will also have 42,000-square-feet of retail space on the ground floor, as well as a parking garage. The released renderings do not tell much of amenities, but many residences will certainly have spectacular views.
Prior to this news, it appeared that the Atelier II would claim the title of largest apartment building in New York, but the massive 1,100-unit building will fall short to 606 West 57th Street. The nearly 700-foot tall Atelier II at 605 42nd Street looks like it will steal the northern views from the adjacent Silver Towers.
Several developments will actually contain more apartments than 606 West 57th Street, but none will house as many in a single building. Gotham West in Hell's Kitchen will eventually house 1,238 rental apartments across four buildings. Similarly, 3333 Broadway in Harlem boasts 1,200 apartments spread across five buildings. London Terrace in Chelsea houses 1,665 apartments throughout a complex of 14 buildings. While all of these developments are huge, they certainly put the sheer size of 606 West 57th Street into perspective.