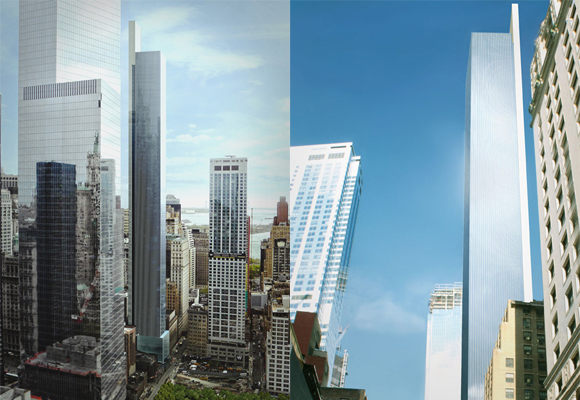 Designer of super-tall, super-skinny 432 Park Avenue, Rafael Vinoly, has taken his architectural talents Downtown. In his newest design, Vinoly adhered to the old adage, "if it ain't broke, don't fix it," revealing yet another tall and thin tower for 22 Thames Street, which could potentially be the tallest residential building in Lower Manhattan.
According NY YIMBY, 22 Thames Street could exceed 937 feet, which would put it past Silverstein's 30 Park Place. The Fisher Brothers and Witkoff Group project will bring more than 400 apartments for rent in the Financial District.
While the building is obviously in its early stages and no floor plans have been released, we do know what sort of luxury amenities will be coming to the Downtown rental building. Planned amenities include a fitness room, yoga studio, swimming pool, squash court, screening room, library and a roof deck.
Demolition on the former building at 22 Thames Street concluded over the fall, and the new building is expected to completed in 2017. Of the 400-plus apartments, 20 percent will be affordable, while the remaining 80 percent will be rented at market rate.
The demand for downtown rentals continues to increase, and developers sure are taking advantage of the booming market. While the Financial District is only rivaled by Midtown in terms of office buildings, that hasn't stopped new residential development or office-to-residential conversions.
If you're looking to rent an apartment before 22 Thames Street wraps up construction in 2017, check out New York by Gehry at 8 Spruce Street in the Financial District, which offers luxury rentals in a new, 876-foot-tall building, starting at $2,950 per month.