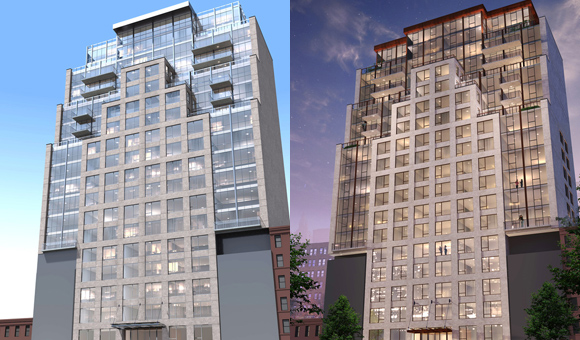 HAP Investments, the mid-size real estate investment group responsible for new construction apartment buildings in Manhattan such as HAP 6 and HAP 4, has released plans for a new apartment building in Chelsea. The building, which is being called HAP 8, is located at 215-219 West 28th Street.
According to a report by the Real Deal, the nearly 75-foot-wide site, which is currently occupied by a parking lot and a bar called Smithfield, sold back in August for $50 million.
HAP 8 will rise 21 stories, so the midrise will not have a major effect on the skyline. While the design isn't extreme, it will certainly stand out amongst nearby buildings, many of which are new construction hotels.
The building at 215-219 West 28th Street will rise six stories on its lot, and then extend over both adjacent lots, of which HAP owns the air rights. The dual cantilever design is subtle, as the renderings (spotted by NY YIMBY) show the overhangs will be flush with the neighboring buildings.
Renderings show the buildings facade will be a handsome combination of masonry and glass. While floorplans for HAP 8 have yet to be released, it appears that many units will have balconies and terraces. 215-219 West 28th Street will have 117 apartments, while the ground floor will feature retail space.
Chelsea has seen a surge in new construction in recent years, especially along the High Line. While HAP 8 isn't along the popular park, the diverse neighborhood remains one of the most desirable in the City.