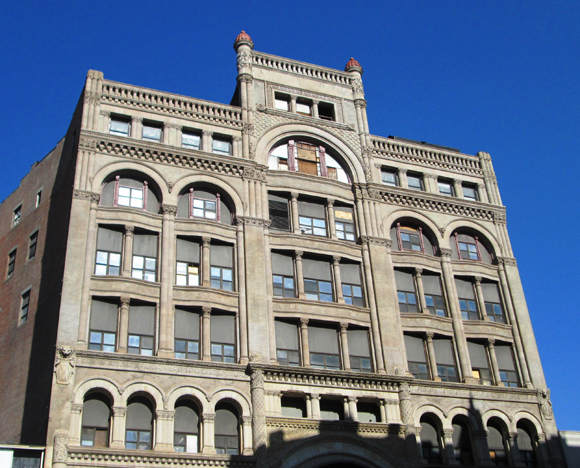 Brooklyn offers a diverse array of apartments. From pre-war brownstones in Brooklyn Heights to luxury apartments along the Williamsburg waterfront and everything in between, there really is something for everyone in the borough. And the latest? Soon you'll be able to rent an apartment above Fulton Mall in Downtown Brooklyn.
Located at 505 Fulton Street, the landmarked Offerman department store building is undergoing a renovation to house 120 luxury lofts spread across four floors of the massive 7-story, 1891-built building, Brooklyn Paper reports. Once considered to be a less-than desirable neighborhood, Downtown Brooklyn and the surrounding neighborhoods have seen a consistent resurgence since a 2004 rezoning.
Residents of 505 Fulton Street will enter the Romanesque Revival-style building through a separate entrance than the thousands of daily shoppers, and into a grand atrium. As for the apartments, some lofts will feature soaring 15-foot ceilings. Residents will also have access to a shared rooftop deck.
As of now, there's no word on the prices for these apartments, but nearby luxury rentals start in the mid $2,000 range for studios, while two-bedrooms can go for over $6,000. First move-ins are expected later this year, so the more specific details are sure to come out soon.
505 Fulton Street isn't the only building bringing luxury homes to Downtown Brooklyn. Around the corner from the Offerman building is 388 Bridge Street—a new, 53-story high-rise with 234 apartments for rent with a bevy of luxury amenities. Downtown Brooklyn is just a short trip to Manhattan, but the neighborhood has its own art, food, fashion, nightlife and any other scene you could ever want.