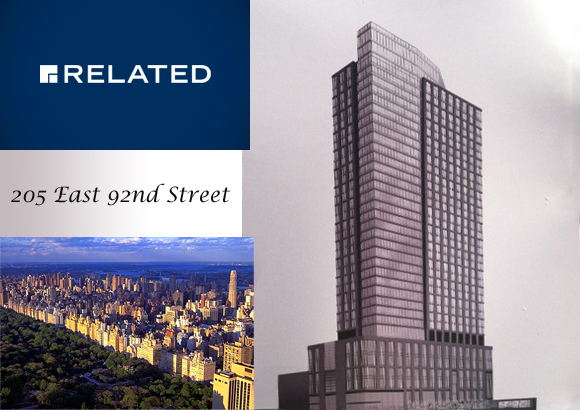 Related Companies, the development firm responsible for luxury rental buildings like The Sierra, MiMA, and The Westport, just to name a few, is bringing even more apartments to Manhattan—this time in the Upper East Side. Located at 205 East 92nd Street, this new rental building will rise 36-stories and bring 230 apartments to the uptown neighborhood.
Though primarily a rental building, this new development will technically be mixed-use, hosting a school for children with language-based learning disabilities in the 7-story base, as well as an Equinox gym, which is a subsidiary of Related Companies.
The 388-foot-tall tower is designed by Handel Architects, and has apparently changed slightly according to the latest rendering spotted by Curbed. The former rendering featured a facade accented heavily by brick. In the latest mock-up, the tower appears brickless, though it's difficult to ascertain based on the grey-scale image.
205 East 92nd Street is rising on the site of the former Ruppert Playground, despite outcry from the local community. When the building is completed in 2016, locals will be able to take advantage of 12,000 square feet of open space that will come along with the building.
Amenities at 205 East 92nd Street will include a kids' room, bike storage, and space on the top (36th) floor, possibly reserved for a residents' lounge.
Related Companies is one of the largest development firms in New York City, currently developing the centerpiece of the Hudson Yards Redevelopment Project on the Far West Side of Manhattan.