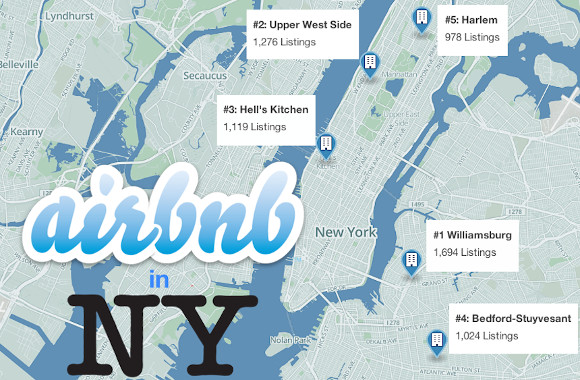 For the last six-months the Attorney General's Office has been trying to get ahold of Airbnb's host data, they have finally succeeded. Airbnb the online platform that allows apartment or home owners to rent their properties out to travelers is voluntarily giving up their host data. Although they will be removing some of the identification information such as, social security numbers, names, apartment numbers, and adding numerical identifiers to differentiate between the multitude of users.
Attorney General Eric Schneiderman's office released this statement, "Airbnb and the Office of the Attorney General have worked tirelessly over the past six months to come to an agreement that appropriately balances Attorney General Schneiderman's commitment to protecting New York's residents and tourists from illegal hotels. With Airbnb's concerns about the privacy of thousands of other hosts, the arrangement we have reached today ... strikes this balance."
It appears that the AG's office wants to sift through Airbnb's records and see the individuals who have made the most money, or who have rented their apartments out the most times, in order to collect back taxes and fees. The top 100 Airbnb hosts in NYC have raked in more than $54 million in the past three-years, which means the state is looking to collect a large sum of unpaid dues.
"We have already removed more than 2,000 listings in New York and believe that many of the hosts the Attorney General is concerned about are no longer a part of Airbnb," said David Hantman Airbnb's head of public policy.
Airbnb most also in the meantime post a warning on their website, letting potential short-term renters in the NYC area know that their purchase may be illegal under the state and city of New York's laws.
Allegedly however, the San Francisco based company is said to have violated a number of NYC laws, which include the New York State multiple dwelling law, hotel taxes, zoning laws, rent regulation, and business licenses.
NYC's government officials aren't the only ones wanting to put a stop to Airbnb, tenants and landlords living in the buildings that house the short-term rented apartments along with hotel magnates aren't happy with the service either.
Tenants along with landlords don't want strangers in their building at all hours, saying it could lead to potential security problems. Meanwhile, tenants living in condominium buildings say that their homeowners' and shareholders' agreements prohibit short-term rentals outright.
Hotels on the other side are livid that Airbnb does not have to pay the hotel tax and also doesn't have to abide by health and zoning regulations that apply to the hotel industry.
In the end, Airbnb hopes that the law's will change in favor of their business. The company had previously argued that the laws in place are for landlords renting properties fewer than 30 days and do not apply to tenants. The next step in the trials and tribulations of Airbnb is up to the AG's office.
Airbnb is currently in more than 34,000 cities in 192 countries. The company's value is more than all three of the United States's largest hotel chains, priced at $10 billion. It appears the company will be more than fine if they step out of the NYC market, however they are playing ball with NYC's government—stayed tuned for more updates.