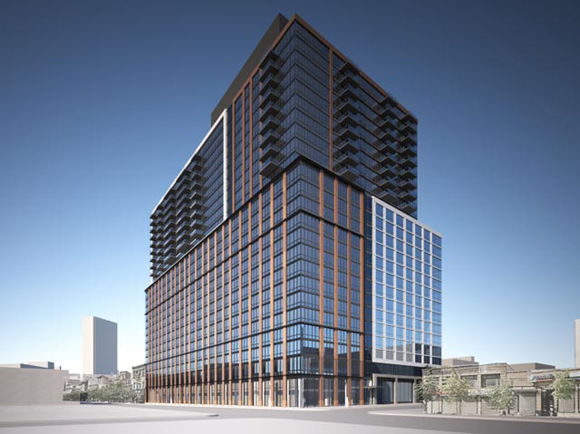 TF Cornerstone is doing its part to alleviate the tight supply of apartments for rent across the city. In the upcoming years, the development company will add nearly 3,000 apartments spread across just three projects. Recently, YIMBY sat down with TF Cornerstone's Jon McMillan and Sofia Estevez, discussing these upcoming projects.
Brooklyn: 33 Bond Street
33 Bond Street is located in Downtown Brooklyn, between Livingston and Schermerhorn Streets, placing it less than a block from Boerum Hill. The building will be massive, but not tall. 33 Bond Street will rise 25 floors and offer 714 apartments for rent in a great Downtown Brooklyn location. The new apartment building is conveniently located near several subway lines and is a short walk from the Fulton Mall, the BAM Cultural District, and the Barclays Center. Currently, the location is a parking lot, which will soon be demolished to make way for the apartment building. 20 percent of the units will be set aside as affordable apartments.
Manhattan: 606 West 57th Street
Initially, 606 West 57th Street was set to become the largest apartment building (by number of apartments) in Manhattan with its 1,180 units. The interview revealed that the number of apartments has been reduced to 1,024. While it will concede the title of largest apartment building to 605 West 42nd Street, the Midtown West building will still be impressive. The building will take part in the cantilever craze with a composition of stacked boxes of steel and glass. Construction is projected to finish in 2017.
Queens: Hunters Point South
Since the 2001 rezoning of Long Island City, the neighborhood has transformed from industrial to residential with the addition of approximately 5,000 units. TF Cornerstone has been selected to lead the development of the second phase of the Hunters Point South project. This phase of the Hunters Point South development will bring 1,193 apartments to two towers, of which 796 will be affordable, with the majority reserved for middle-income families. The buildings will feature a fitness center, pre-school, rock climbing wall, commercial space, and rooftop gardens.