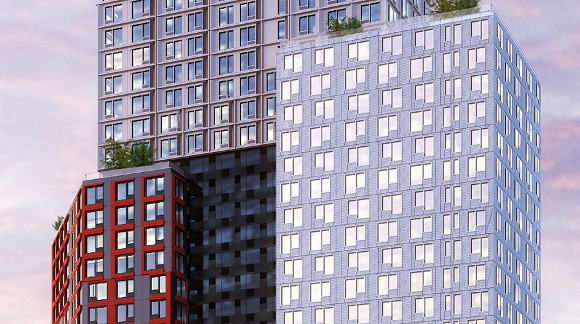 Stalls are feature of the development process, but with the back and forth going on around Atlantic Yards's B2, it seems like this hiatus will be until further notice, since its two major parties are in opposition in State Supreme Court, each claiming a violation of contract.
Construction company Skanska sued Forest City saying that the developer hadn't provided proof of ability to pay, or properly created a facility with which to make the pre-fab units, and that the entire design of B2 is fundamentally faulty to begin with, citing "errors and omissions affecting the modules, the steel frames of the modules, the vertical alignment of modules…"
Forest City is suing Skanska in turn saying that not only had it agreed to the plans, but had exceeded both the allotted timetable and budget. Adding a layer of time sensitivity to the legal battle, Skanska furloughed factory workers in the Navy Yard who were working on the pre-fab residences, the factory of which is supposed to be jointly-run.
Forest City has stated its intention to take over the factory to address what it considers to be an unauthorized action, seeking an injunction to have it reopened. A Skanska representative had previously stated that the offer was merely a publicity student, calling it a "propaganda exercise" to redirect attention from any shortcomings in the design. Additionally, the construction firm believes that by announcing that further residential buildings in the project would be of conventional methods, Forest City had essentially dropped the factory. In the meantime, 157 workers have been left by sidelines.
As for the development's timetable, it's hard to say what this means for B2, but Forest City had a slated finish date for this past August, although it's already well into September, and it currently stands only at a third of its 32-story height. Additionally, project developers Forest City and Greenland Holdings, both developers of Pacific Park (their preferred name for the project), pledged to complete all affordable housing units by 2025 under penalty of state fines.