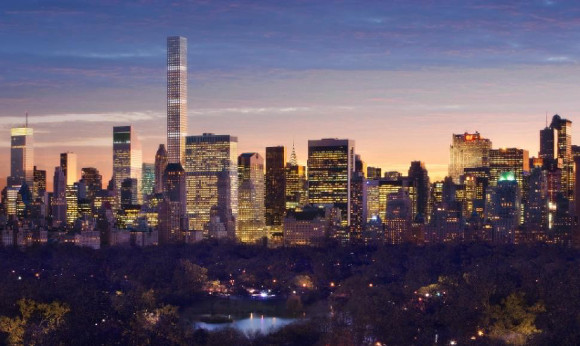 The set of seven sky-high luxury apartment buildings to take root in midtown Manhattan over the next decade is sure to alter the cityscape. Known as Billionaire's row, "it's one thing to rend about $130 million apartments--it's another thing to see just what an impact these obelisks will have on the Manhattan skyline."
To give us a preview of what the city will look like in 2018, City Realty created a rendering, based on productions for buildings currently being planned or already under construction. "The Manhattan skyline is changing more dramatically than it has in decades. Major residential buildings will only get more jagged, until eventually we're all living in hover apartments just below the clouds," i.e., Fifth Element's third-millenium NYC.
One such tower, 432 Park Avenue, up until recently merely an anonymous shroud of new construction, will have modest units for families and luxury condos, serving a smorgasbord of tenants. What's more, it features an unequivocal view of the entire city. In turn, the massive 96-story Midtown East structure can be seen from almost anywhere, e.g. viewed from Central Harlem, the tower hovers magnificently over Central Park.
In the past decade, the Landmarks Preservation Commission has been slow to landmark buildings from the heyday of Postmodernism (early 1970s to 1984). Landmarking is a scrupulous project, requiring that buildings be at least 30 years old before qualifying for Landmark designation (forcing the cut-off year of 1984 above). Postmodern architecture differs from modern architecture in that it is not an expression of ideas, subjectivity or symmetry, but rather a critique of these cultural assumptions, a dissolving of boundaries (e.g. private vs. public) in favor of alternative uses of space that slipped between the wakes of modernist fervor.
Whether serving the interests of new construction or maintaining New York's architectural heritage, the 2010s will effect an unprecedented metamorphosis of the city's famous skyline.