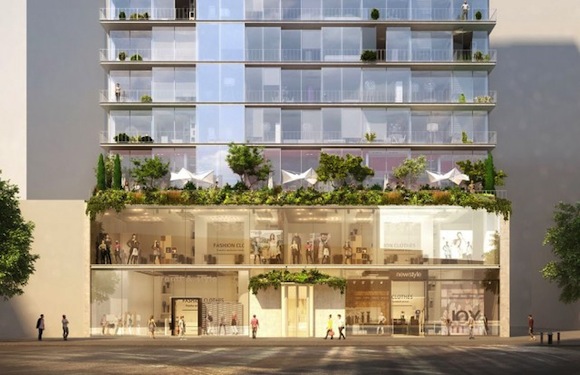 ODA Architecture has issued a rendering for its 28-story building called 436 Albee Square in Downtown Brooklyn. At 310 feet tall, the place will have 150 units spread out across 120,000 square feet of residential space.
Albee Square LLC, represented by Yoel Schwimer, bought the property from hotelier Sam Chang late last year for around $9.1 million. The sale was handled by Massey Knakal Realty Services.
Moreover, initial permits for the lot were filed in June. Three months later, there were approvals to wreck two old buildings on the site to make way for the new structure.
ODA, founded in 2007, also worked on 10 Hubert Street, 5 Franklin Place, and 15 Union Square West, among other homes in New York City. Recently, the Eran Chen-led design firm has been known to create towers that look like boxes stacked together. Such is the case for 2222 Jackson Avenue, 1800 Park Avenue, 275 Fourth Avenue, and 134 Vanderbilt Avenue. Yet 436 Albee Square is a standout in ODA's portfolio, as it has glass exteriors and rows of balconies instead.
The average size for 436 Albee Square's units will be a modest 800 square feet each. Apart from residences, the tower will also offer 24,000 square feet of retail space at the ground floor.
But it isn't the only tower now going up in the area. Found on Gold Street, it is right across City Point, a 1.8 million square-foot mixed-use development between Flatbush Avenue and Fulton Street. City Point, now on its second phase of construction, will comprise two towers that feature luxury apartments as well as offices. Also, the 700,000 square-foot retail center is where visitors can find Alamo Drafthouse Cinema, Century 21, CityTarget, and a bunch of restaurants.
A completion date for 436 Albee Square has not yet been set. However, it is one of the soon-to-rise projects to change the skyline in Downtown Brooklyn, along with larger neighbors like City Point and 420 Albee Square.