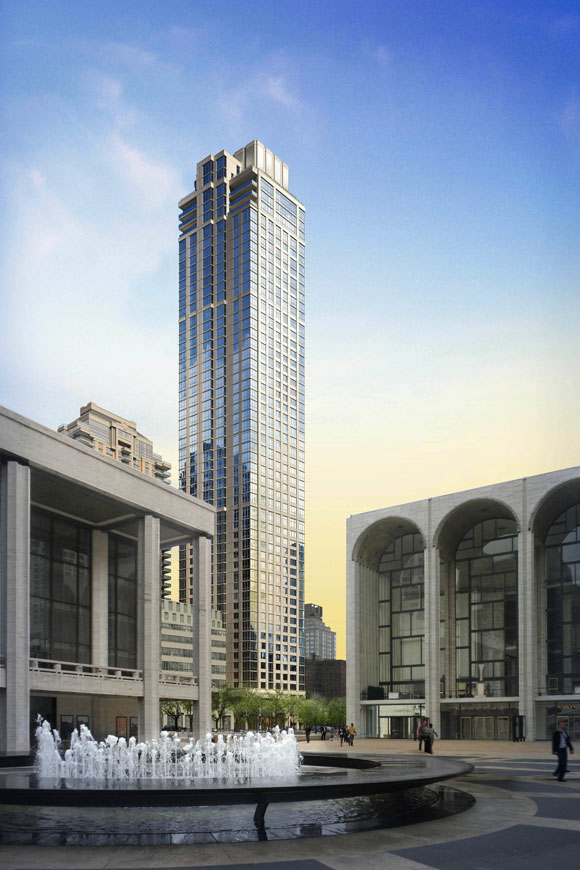 Image courtesy of Glenwood Management
The Upper West Side is seeing a bit of an uptick in development, and according to the New York Times, the Lincoln Square area could see as many as 2,000 new units by 2016. The neighborhood had previously seen few rental developments on account of the understandably high land prices, but a renewed market has facilitated developers' projects in the area, of which Glenwood Management is seizing with its Hawthorn Park tower.
Hawthorn Park's appeal is understandable, what with its address at 160 West 62nd Street, which places it right across the street from the Lincoln Center, and further supported by the fact that even if it's still a few months from completion, it was already 50 percent leased by Halloween. It reaches up some 54 stories, but remains cohesive with the surrounding architecture. Additionally, the caliber of its interior design took special care to stand with a level befitting the Upper West Side, setting a bar that stands its ground with the surrounding co-ops and condos - particular notes were found in the Italian white-glass cabinetry, granite counters, and bamboo and marble floors. Its common spaces and services are at a similar level, with a landscaped terrace, children's playroom, and fitness center complete with lap pool and sauna. At the base are ~3,800 square feet for retail. Hawthorn Park will be joined by another Glenwood development in the area at 175 West 60th Street by 2016.
The plot of land on which Hawthorn Park sits was actually intended to be the site of a Douglaston Development construction that would have been a skosh taller at 57 stories, but was scuttled as a result of the recession. But as it is, a Glenwood executive vice president Gary Jacob may have put it best, "I'm not one for superlatives, but I really think this is probably the best-located rental building in Manhattan right now."