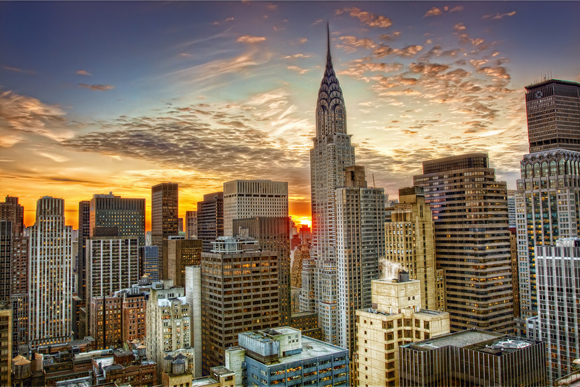 2014 has been a pretty solid year for New York's rental markets. From neighborhood-boosting projects like the High Line to an increasingly impressive Billionaire's Row, the sector and overall industry have set some pretty high bars for 2015.
Ultraluxe One57 finally hit the market, and one thing that might not have been made totally clear is that it's partially a rental building, with monthly rents ranging from $10,000 to $30,000. Of course, this is significant because it marks the beginning of #2 on our list.
2. Billionaire's Row is making some iconic changes to NYC's skyline:
57th Street, also known as Billionaire's Row will soon be characterized by seven new construction luxury buildings. CityRealty put together a rendering for Midtown's skyline in 2018, which is when those buildings are set to be completed.
3. B2 was stunted:
Out in Brooklyn's Pacific Park (formerly known as Atlantic Yards), B2 BKLYN was supposed to be a high-profile test of modular construction. Unfortunately, construction was halted back in September, but it wasn't due to the method of construction, as so much as its implementation. Developer Forest City Ratner and Construction Firm Skanska USA were embroiled in a legal dispute, which put B2 on ice. Since then, FCR has taken over the construction plant, but B2 is still stopped short at a third of its height.
4. Developers woo prospective tenants with bigger, better amenities:
Developers are now attracting tenants with some serious amenities, extending beyond a doorman and lounge, many of which are targeted for contemporary needs. You can actually check out some of our favorite amenity-filled buildings right over here.
5. City's priciest rental gets tenant:
The Pierre Hotel is houses the city's priciest rental, and it now has a tenant to round out the year. The entire 39th floor, which carries a monthly rent of $500,000, went to an international tenant. The 39th floor is made up of the Presidential Suite, plus several more bedrooms, and a language-specific butler.
6. SF's rents are now higher than NY's:
San Francisco's rent levels have officially risen above New York's, which is kind of remarkable in a way, considering that San Francisco's population is only a bit more than half of Manhattan's — and Manhattan is the second least populated borough.
7. The High Line completed its third and final section:
The High Line has been in the works for some 15 years, but completion of its last stretch finally rounded out the raised park. Of course, there's a salad bowl-looking spur on 10th Avenue that still needs to be constructed, but the main bits have been completed. In any case, the raised park project spurred on, and continues to spur on, new construction projects.