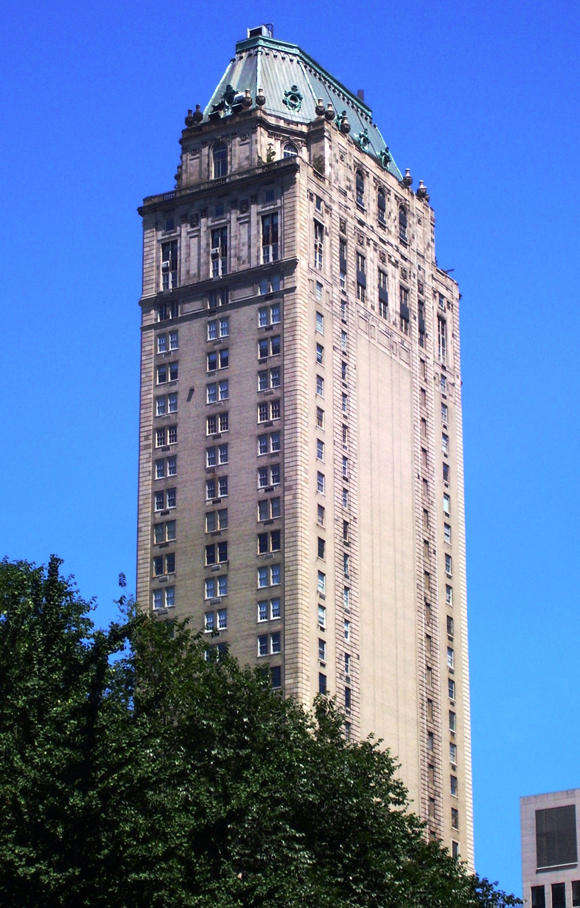 Image via Wikimedia Commons
This past Halloween, the 39th floor of the Pierre Hotel was declared the priciest NYC rental apartment with its monthly rent of $500,000 (which isn't too surprising). As it turns out, an international renter just signed a lease for the rest of the month. What's even more, the renter rented an additional suite on the 10th floor, which even at just over a third of that of the 39th floor, still clocks in at $150,000 per month (by comparison, 15 Central Park West's apartments have gone as high as $125,000).
The 39th floor is actually made up of the Presidential Suite, plus several more bedrooms, which all together make a comfortable 4,686 square feet. The Presidential Suite was available for lease on its own for $400,000 per month for a month-long Lease, as well as a regular nightly rate of $20,000. Because the Pierre Hotel intends to issue leases on a month-to-month basis for the full-floor apartment, there's no indicator as to how long the renter intends to stay. In any case, the tenant will undoubtedly enjoy amenities like "a language-specific butler and concierge service and a chauffeur-driven Jaguar," not to mention views of Central Park, and dining at Sirio Ristorante and Two E Bar/Lounge.
The previous record-holders for the city's priciest rentals were the Jewel and Champagne Suites in the New York Palace Hotel, which each rented for $250,000, and came with a litany of benefits, including private car service via Maybach, massive terraces, and complimentary champagne. The appropriately named Jewel Suite in particular boasts a curated collection of jewelry designed by Martin Katz.
Located in the Upper East Side Historic District, the Pierre was designated as a landmark in 1981. With its opening in 1930, its market was made clear from the outset, with its intention to "create the atmosphere of a private club or residence instead of the average hotel atmosphere."