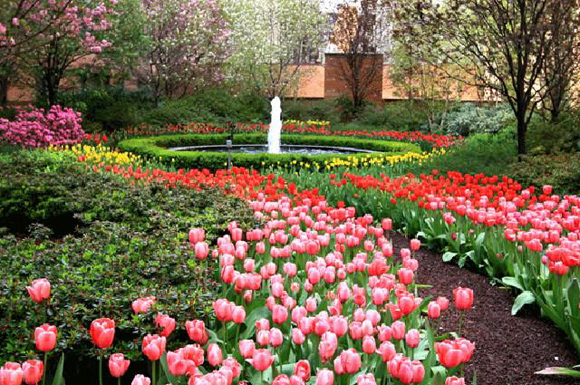 Hampton Court's Garden
Check out this rental in the Hamptons: called the Pearlroth House, and sometimes the Double Diamond House for obvious reasons, this landmark was designed by Andrew Geller back in 1958. Mr. Geller's innovative designs were known for incorporating non-traditional elements with context awareness, the latter of which is doubly important for the beach houses for which he's most known.
The Westhampton Beach house was actually moved some 40 feet away from its original position, and the construction has since been joined by a much more recent, and notably bigger, addition designed by Cook + Fox Architects (now COOKFOX Architects, whose numerous works around New York City include the Chelsea Grande). The newer house looks much more like a conventional beach house, but with the Diamond , it flows together. As it turns out, the five bedroom complex is available for rent for $225,000.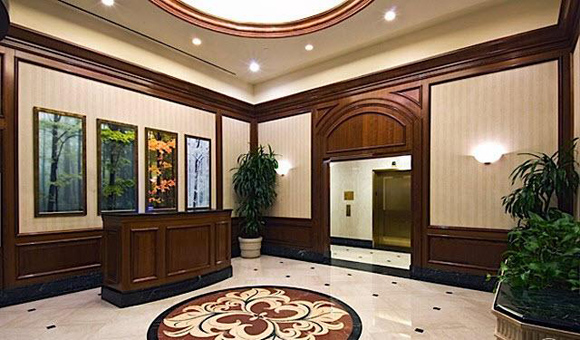 The lobby at Hampton Court
Of course, if the Hamptons are too far, there's Hampton Court at 333 East 102nd Street (not to be confused with Hampton Court Palace, though it's still really nice) in Harlem. As with many high-end rentals, this building is staffed by a 24-hour doorman, and features beautifully designed spaces, evocative of classic New York. Notably, it has a nicely landscaped private garden — complete with a flower beds and a fountain fixture. The courtyard is arguably one of the nicest private gardens of any Manhattan high-rise. As an added benefit, it's pretty close to the 97th Street entrance of Central Park.
Then again, if one's inclined to rent, it's always possible to charter a helicopter to get from one to the other. In case you didn't already know, Blade is an app (unfortunately no relation to the film franchise) that's been likened to services such as Uber and Lyft, albeit for helicopters on that route. Of course, Uber has flat-rate services on that route, too; really, it's all up to personal preference.