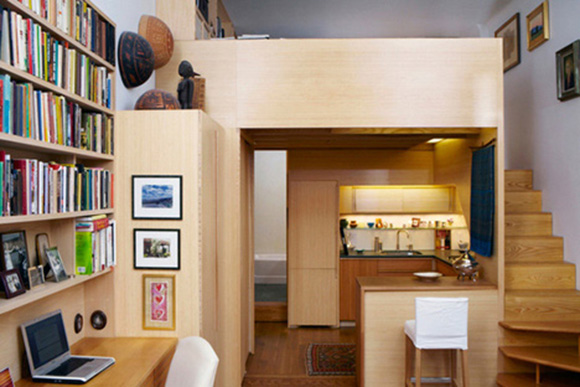 The rental market in Manhattan has been on the rise, and is projected to increase phenomenally through 2016. New York is on an ever-impossible quest to meet the demand for more spaces. This has left developers looking for innovative new ways to house the increasing population of singles. Enter My Micro NY, the city's first micro apartment complex, located at 355 East 27th Street in Brooklyn, with 55 units ranging from 260 to 360 square feet. This building will be leasing its studios this summer for a mere $2,000 to $3,000 a month.
With the introduction of micro-apartments, there is a large possibility that more reasonably priced housing options will open up around New York City. With a majority of units being dedicated to singles, these modular developments help resolve the increasing demand for one- and two-person homes within a city that has limited space to grow. Though the micro-apartments are small by the typical luxury apartment standards, they are designed to optimize space and maximize the sense of openness. Each micro-apartment includes 9-foot ceilings, 16-foot long overhead loft space, Juliette balconies, hidden storage, and numerous common areas that encourage resident interaction.
Many single New Yorkers already live in what can be considered a 'micro apartment'. The concept of micro-apartments is not a new one for New York City, prior to 1987; micro-apartments were built throughout Manhattan before zoning laws were enacted to prevent overcrowding in apartment building. There are some 3,000 apartments in Manhattan alone that are less than 400 square feet. The Greystone, is home to 26 units under 400 square feet, a former hotel built in 1923 on the Upper West Side converted into luxury rentals. For many it provides the quiet and solitude they longing after. At $2,600, the value of privacy and solitude can prove to be costly. It remains to be seen if true micro-apartments will gain footing, New Yorkers are eager to find solace in idea of gaining an ounce of privacy.
Amenities may provide the key to success of micro-apartments. "Amenities have become much more important to people as apartments have gotten smaller," said Cliff Finn, the executive vice president of new development at Douglas Elliman, and the leasing agent for The Greystone. Amenities have become an extension of the living space for many. Amenities are now allowing people to easily make a trade off, spending their time elsewhere. Proving to New Yorkers that mirco-apartments may be the way of the future.