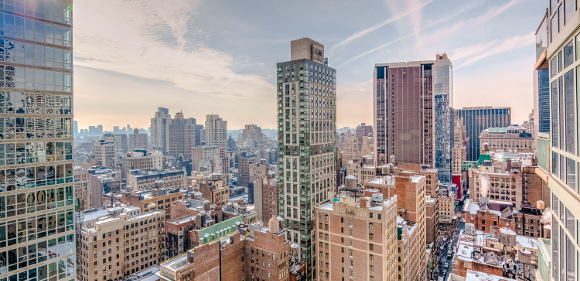 Rent prices are on the rise again, with the median rent up 4.1 percent ($4,093) compared to last year, writes Curbed. Jonathan Miller, compiler of Elliman Report has found that the prices for smaller apartments are now rising faster than the top of the market. In Manhattan, the median price for studios and one-bedrooms is $2,270 - that's 11 percent up from last year, the highest point in seven years! Brooklyn and Queens rent rates are also going up, though at a much steadier rate. The real question is: why are smaller apartment rents going up?
According to Miller, it all goes back to credit scores. Credit remains "historically tight," causing would-be first-time buyers to rent instead. This increases the demand for rentals, and consequently, rent goes up. Additionally, the average time spent on the market for Manhattan rentals has gone down by 4 days. Another contributor to the rise in rent is New York City's employment growth.
The MNS Rental Market Report shows that there are a few factors that affect the overall rate of increase as well. The rent for buildings with a doorman is increasing faster. Neighborhood is another factor; the greatest rent increases in Manhattan are happening in Harlem (8.5 percent), the Financial District (7.4 percent), Battery Park City (6.5 percent) and SoHo (6.0 percent). Though the greatest increase was actually in Boerum Hill, Brooklyn: rents have increased by an incredible 14.8 percent.
JLL reports that NYC is one of four "Super Cities;" these cities are the destination of over 50% of all foreign capital invested. Being one of the world's largest business centers is another explanation for the increased demand for real estate in NYC. JLL predicts that over the course of 2015, rental values will increase up to 5-10 percent in NYC, specifically Midtown. Across the U.S., the rental market is being propelled in cities like Austin, Charlotte, and Jacksonville.
Miller predicts that rent increases will continue, with the potential mortgage rate increases later this year and next year.