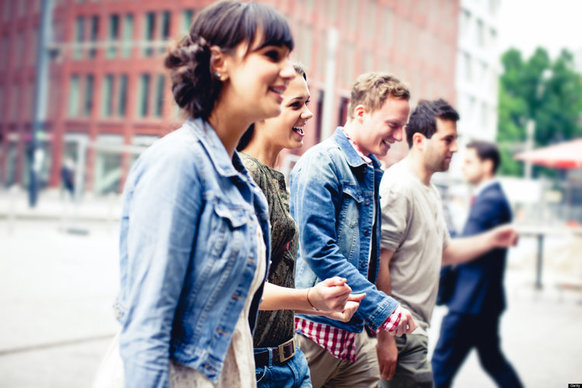 It seems that buying is no longer the best option....or that's what Millennials in Manhattan seem to think. While many young professionals in New York can afford to put a down payment on a six-figure apartment, they are choosing to rent instead. According to the Observer, "With their increasingly mobile jobs and lifestyles successful New Yorkers in their 20s and 30s are shying away from making a commitment to one city, let alone one apartment. And despite Manhattan's astronomical rents, it's costlier still to buy here with the average Manhattan apartment now going for $1.73 million, a record high."
Itzy Garay, leasing Manager for Town Residential notes, "They're taking the money they would spend on buying an apartment and starting their own businesses instead." For Manhattanites in their 20s and 30s, buying just doesn't make sense when they spend less than 50 percent of the year in the city, creating an entrepreneurial spirit within this Millennial group. Being an entrepreneur leads Millennials to as much cash as possible. This isn't the only reason that Millennials are renting; many also see renting as a way to preserve their freedom, while others are unsure if they are going to be relocated, so they are willing to pay large amounts of money to avoid the commitment. For others, it is the total cost of ownership. "I can get more space in a better location for my budget if I rent in New York. If I wanted to buy, I'm priced out of the neighborhood I love," stated Dionna McPhatter, co-founder of The Strategy Collective. For Dionna, that space is a 1,600 square foot two bedroom loft in Dumbo for $5,350 a month.
In past generations, owning a home was a basic milestone of adulthood, but that is not the case today. According to 6sqft, "In a recent Goldman Sachs Study some of the 75 million Americans between 18 and 34 years old, only 30 percent said buying a home is important, but even they noted it is not a priority." Millennials are just more interested in access rather than ownership. Why buy items like a house or a car, when you can easily rent them and avoid the hassles and expenses of upkeep? This type of attitude has become synonymous with Millennials, though mostly in Manhattan.
Although home-buying among Millennials has seen an uptick, it is mostly in cities where homes currently cost less to buy than to rent, according to the National Association of Realtors. Halstead real estate broker Ari Harkov noted, "I don't know if it's a preference so much as a budgetary constraint. For the few who are buying, they are mostly doing so with help from their families, or they work in a hedge fund where they have the unique ability to have earned enough and saved enough to be buying relatively young." While DINKS (double income no kids) have the benefit of two paychecks, Harkov notes, "I'm definitely seeing a preference to buy. For the Millennials in their 20s, many of them are not at a point in life where they feel the nesting thing kicking in."
While there may be an uptick in buying, Manhattan Millennials would rather have the largest piece of the pie. In order to do so, renting is the only option, which leaves Millennials choosing luxurious rentals to call home.