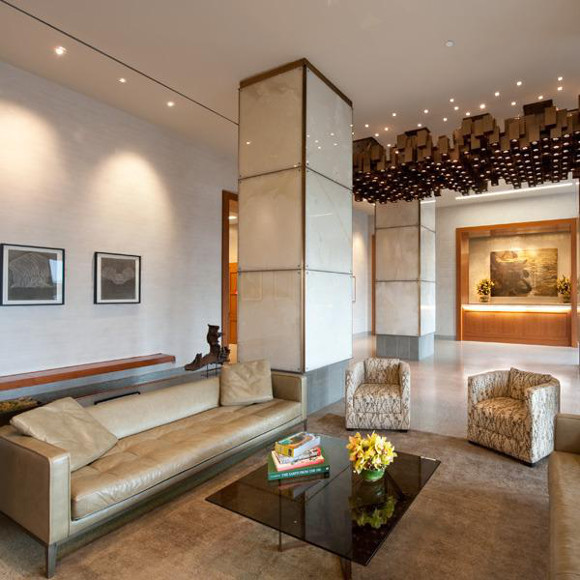 Luxury apartments now come with VIP treatment...if you can afford it.
Developers of large rental buildings have used this formula for the past several years: keep apartments small and go big on amenities. Early on in 2015, the market prediction was that luxury rentals would go even bigger on amenities. The lavish interiors provide the utmost comfort and are aesthetically pleasing. Going above and beyond providing top-of-the-line finishes and appliances means providing shared spaces: gyms, playrooms, pools and terraces. The arms race of amenities has lead to some ritzy benefits; the Aldyn offers basketball and bocce courts; golf simulators, and even pet spas. Developers seem to have caught on to the unspoken truth: luxury is all about lifestyle, and amenities are the tip of the iceberg. Providing spaces for activities creates an elite community, but there's more to it. What sets one ultra-luxe tower apart from another? Potential residents are seeking a unique experience and a lifestyle they can't get just anywhere.
More recently, renters are being reeled in with VIP treatment. Luxury rental developers are offering premier seats at a basketball game and a meet-and-greet with a former Knicks player, front-of-the-line access at hot Manhattan nightclubs, instant reservations at hard-to-get-into restaurants, and other brag-worthy perks to try to attract new tenants and to persuade current tenants to renew their leases, reports the New York Times. Amenities brought the focus to a private lifestyle inside the buildings, but now emphasis has shifted to exclusive experiences outside the building. "You feel really special," said Cristi Silva, a resident of the Caledonia, at 450 West 17th Street. "People in line are like, 'Who is that?' "
The perks offered are carefully selected; developers don't want to overwhelm residents. Each offer has to be up to snuff and totally unique. These perks have to help justify the hefty price-tag. According to the Elliman Report, the average rental price has gone up from $4,093 to $4,126 over the past month, with the biggest price jumps in studios and 1-bedrooms. Still, renters are willing to keep paying more for the extravagant lifestyle that comes with an ultra-luxe apartment.