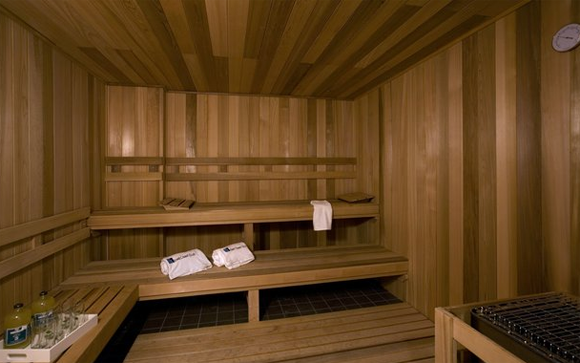 A sauna in The Club at 4705 Center Boulevard in Long Island City.
The startup company Luxury Retreats offers vacation rentals complete with some luxurious perks. In 1999, Joe Poulin founded what has been dubbed Airbnb for the 1 percent, Luxury Retreats, which lists vacation mansions and apartments with prices often exceeding $1,000 per night, reports the Real Deal.
Though originally the company focused on villas, Luxury Retreats has since grown to include a wider variety of luxury vacation rentals. Though Luxury Retreats has fewer homes listed compared to other vacation rental sites, it's "focused on refining its collection and operations in existing locations while continuing to develop new markets," according to Skift.
Each of the potential luxury vacation rentals are put through a strict 100-point inspection, with rentals ranging from Mexican condos at $500 a night to Richard Branson's Necker Island at $60,000 a day, reports Forbes. Luxury Retreats currently has 2,800 homes in 90 locations with five apartments listed on Central Park South, one apartment in Chelsea and another apartment listed in an Upper West Side high-rise in New York City, with prices at around $2,000-$3,000 a night. But if just a few nights isn't a long enough stay, you can continue to enjoy Central Park views at 240 Central Park South, One57, or 15 Central Park West. There is much expansion going on in Miami, New York City, Paris and Los Angeles, however the most popular destinations are the Caribbean, Tuscany and Hawaii.
Every guest is appointed a personal concierge that is available 24/7. "We take this approach that no matter where you go in the world, you've got this set of eyes that's making sure each step of your vacation is being executed as well as possible," Joe Poulin told Luxury Listings. "The idea is for us to engage as much as we can and just really provide a great experience." Users have used the provided concierge services for some standard requests, such as specific wines and chartered boats, in addition to more demanding requests such as building a full synagogue on the grounds of a home, or transporting a particular breed of duck to populate the gardens, according to TechCrunch. "Luxury is not sold," says Poulin, "It's delivered."
The Montreal-based company has raised a total of $16 million from investors, intending to use the funding to expand its on-the-ground team to offer an enhanced experience to its luxury-minded guests. "We're very confident in our own model," Poulin told Financial Post, "If you're looking for predictability and you don't want to sift through 2,000 listings in some part of Italy, then you'd probably want to come with us."