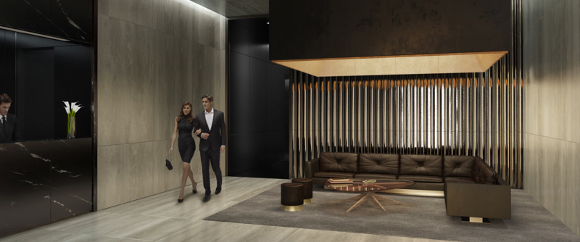 New York City and San Francisco have highly competetive and very different rental scenes.
New York City and San Francisco are two of the cities with the largest rental population; more than 50 percent choose to rent. Though they have much in common, including the highest median costs, the nature of each rental market is very different. Both are growing in different directions. The New York City rental market is booming with ultra-luxe, supertall towers that are competing for all the greatest views and the best amenities. The emphasis is on providing a unique lifestyle that you can't get anywhere else.
A prime example of this phenomenon is One57. Designed by Thomas Juul-Hansen, One57 is among the tallest mixed-use buildings, with a split of rentals and condos. This supertall provides residents with the height of luxury living through its top-of-the-line finishes and endless amenities. Each kitchen is equipped with stainless steel Bosch appliances, Nero Voda marble countertops, Statuario marble details and wooden cabinetry. The baths are finished in Bianco Dolomite marble and feature soaking tubs, large mirrors and double vanities. Amenities include a 24-hour concierge and doorman, housekeeping services,a full-catering kitchen, on-site parking, and valet services. Residents of One57 are part of an elite community with access to a state-of-the-art fitness center and pool, screening and performance room, arts and crafts atelier, library and billiard room.
Starkly contrasting is the San Francisco rental market, where 200-square-foot micro-units are the hot, new trend. Developer Artthaus, renowned for high-end projects, has transitioned to designing group housing. The micro-units would share kitchens, reeling in about $1,500 per month. Renderings reveal that these projects are made to look like high-end luggage, specifically a "vintage Hermes leather trunk." These units will be installed at 1798 Bryant and 45 Dore Street; the sites were originally intended for luxury condos. Though there are some micro-units being constructed in Manhattan, they are closer to 250-360 square-feet and are much less prominent than in San Francisco.