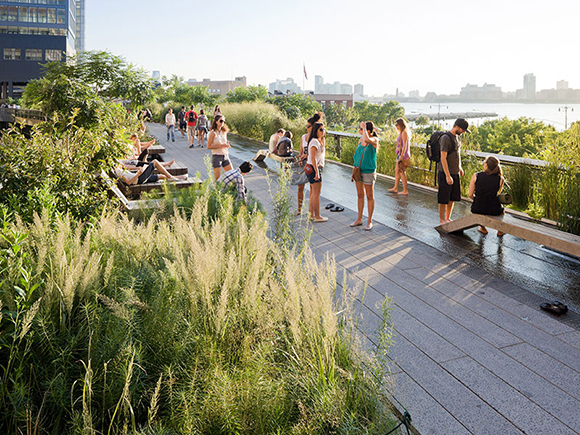 Photo courtesy of The High Line
After opening in 2014, The High Line has become one of the most popular spots in New York City. With such a keen interest in the redeveloped park, luxury real estate with view of The High Line are in high demand. Here are five luxury apartments for rent in Chelsea that give round-the-clock access to a view of this beautifully transformed railway.
Like many other luxury apartments overlooking The High Line, 450 W 17th Street seamlessly incorporates the atmosphere of the park into the residence. A roof terrace features a similar linear design in its wood flooring, lush green plants decorate the area to bring an air of natural growth into the manmade area, and seating is provided to soak in the sunshine, good views, and even to enjoy some food on the barbeque. One unique amenity to the building is its own pet spa, so while you are relaxing on the roof, your furry friend is getting the royal treatment.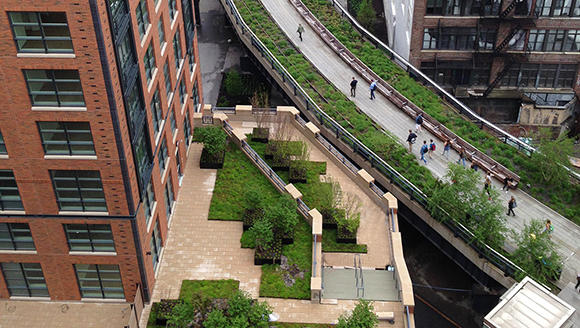 Also developed by Related Companies, The Abington House sits adjacent to The High Line, providing access to the park whenever you desire. A sun terrace sits at level with the park walkway, giving special access to a section of the park. Like The Caledonia, The Abington House also has a pet spa. Another desirable amenity at the apartments is an internet café, basically like having a Starbucks in your home, except no Starbucks looks as modern and bright as this café.
When you tell people you live at The High Line, you can really mean it when your building shares the same name. AVA High Line is commonly personified as a fun, female woman named Ava who wants you to have it all. The building is also LEED-certified, which keeps a consistent theme with the environmentally friendly park next door. Some additional amenities include a fitness center, concierge, fully equipped outdoor lounge, pet friendly, and customizable apartments to your taste and style.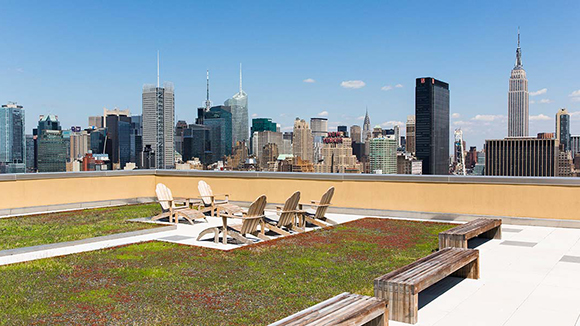 Photo courtesy of The Ohm
The name of this building is very similar to the Hindu word "om," a spiritual word used in many relaxation techniques like yoga. This is fitting, since The High Line is somewhere one can easily relax and unwind. Some fun amenities of The Ohm include a decked-out lounge, a garden terrace just a step outside of that, a fully-equipped fitness center, an old-school arcade, a music venue, option for pets, and a roof deck.
Ten23 Apartments
See The High Line like never before when living in an apartment at Ten23. There's no better way to get an aerial view of the landscape than when you live right above it. Some amenities include round-the-clock concierge service, an option for pets, and a roof deck where you can enjoy scenes of the Hudson river while you grill.