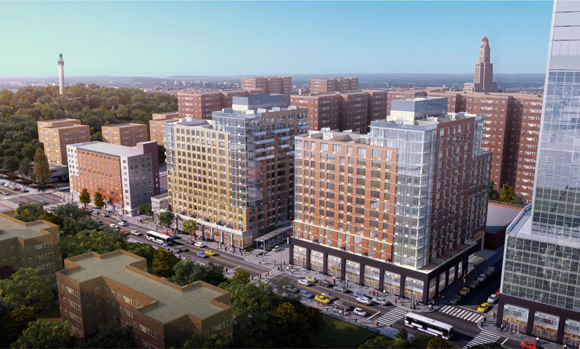 John Catsimatidis, famously the owner of the NYC supermarket chain Gristedes, is developing a brand new construction rental in Downtown Brooklyn. Construction on 86 Fleet Place has actually started, with expectations to wrap up in 2016.
The 32-story rental will feature 440 rental apartments, as well as a full complement of amenities. According to current plans, its amenity spaces will include a state-of-the-art fitness center, a residents' lounge, a children's playroom, and naturally, a rooftop terrace. Additionally, its 143 parking spaces will be a huge convenience for its tenants.
Located in Downtown Brooklyn, right on the border of Fort Greene, 86 Fleet Place joins several brilliant rentals that we mentioned last week, like Toren and 388 Bridge Street. Undoubtedly, 86 Fleet Place's curvy profile and glassy polish definitely fit Downtown Brooklyn's growing skyline of ultra-modern high-rises. Naturally, this means that it's a great place from which to explore Brooklyn and the rest of New York City. 86 Fleet Place's architecture was drafted by Goldstein, Hill & West Architects, who have an extensive portfolio working with some of Manhattan's finest luxury rentals, including The Aldyn, Silver Towers, and 605 West 42nd Street aka Sky.
In addition to his ownership of Gristedes, Mr. Catsimatidis owns Red Apple Group, which is developing the site. Red Apple purchased 2.5 acres from Long Island University back in 1982, which it is currently developing. 86 Fleet Place is one of four rental buildings on the site, which will collectively introduce nearly 1,000 apartments to the housing stock, using the 50-30-20 plan. Dattner Architects, who also drafted 205 East 59th Street, also designed the master plan for the Red Apple project. They were also one of the finalists of the adAPT NYC micro-units competition, as well as the architects of the Halletts Point mega-project along the Astoria waterfront.