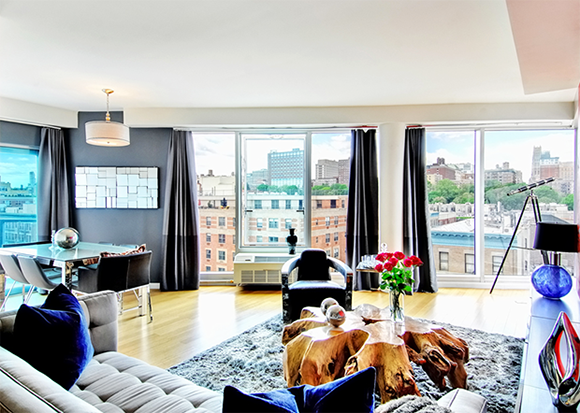 In a recent study compiled by the Douglas Elliman appraiser, Jonathan J. Miller, housing prices in Brooklyn are skyrocketing at a rapid rate. And in some instances, Brooklyn apartment rentals have been more costly than their Manhattan counterparts.
It's a bizarre shift in the New York housing market that has shocked many first-time investors and Brooklyn tenants looking to relocate. And new buyers who want to preserve their intricate lifestyles in the city are ironically finding themselves moving back into Manhattan because it's that much more affordable.
If the Barclays Center and the MTV culture are anything to go by, it's no secret that Brooklyn's popularity is getting a little out of hand. The borough's set a new record in rent hikes this year, jumping 5.6% in prices this summer. And in 2014 alone, the Dumbo area experienced an 18% growth in both residential and commercial rents, which is 10% more than the sales activity in the Tribeca.
Finding great deals in the city in this day and age requires a little bit of research and maybe even a whole lot elbow grease. But it's not entirely impossible, especially in the outskirts of Manhattan.
Neighborhoods like Morningside Heights and Harlem are a constant attraction for buyers looking for the best value. The new luxury building, Susan's Court in 454 Manhattan Avenue, has rentals starting at $2,700 a month for 1 bedroom and 1 bath. Many of its amenities include a 24-hour doorman, laundry room, and a parking lot for tenants.
Avalon Morningside Park is also a new rental building situated near Columbia University, which has an active campus that's giving life to a community overflowing with shopping centers and cafés. Studios have a monthly rental fee starting at $3,800, and 1 bedroom apartments go for about $4,250 a month. The apartment housing comes with a concierge, fitness center, and programmable controls for heat and air conditioning.
And last but not least the Hampton Court is an ideal option for Manhattan buyers who are particular about having great views. Located at Harlem in 333 East 102nd St, the building features a landscaped garden with an atrium walkway, marble floors, terrace space, and lavish interiors put together by the hotel designers at Andi Pepper. A 2 bedroom apartment is available for rent at $3,4000 a month.
These solutions offer more opportunities for Brooklynites who can't bring themselves to leave the city. And considering the value of space available in the Upper West Side apartments, new buyers are open-minded about their new options in Manhattan.