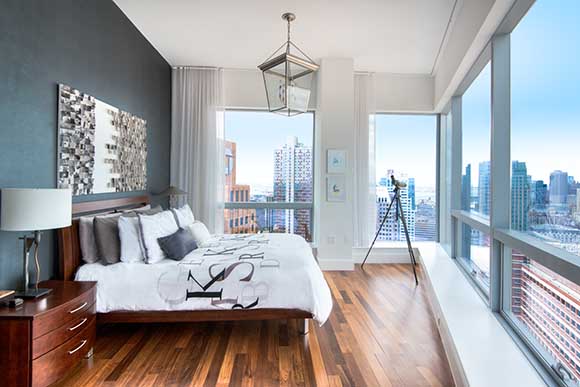 It's a well known fact that international investors play a huge role in Manhattan's real estate scene, especially in the ultra-luxury sector — but as it turns out, international tenants make up a significant part of the luxury rental market too. In general, the Manhattan housing market is dominated by rentals, with condos and co-ops taking a backseat, and with a brilliant run of new constructions, the luxury sector in particular has grown consistently.
Real estate agent Katherine Salyi spoke on the trend of international renters to the New York Observer, "I'm still seeing a heavy clientele from Asia, a heavy clientele from Brazil and from Russia...And that's similar to the most popular [countries in the] foreign buyer category." Zachary Elias, a listings manager, offered additional insight by stating that "It's not the investment crowd, it's the liquid money crowd...It's, "I'm good with $20,000 a month indefinitely, and it's easier than home ownership."
To be sure, given the complex and nuanced system to acquire a condo in NYC — to say nothing of the additional steps and standards required by co-ops — Manhattan luxury rentals offer few barriers to living among NYC's iconic skyline and culture.
A couple Manhattan buildings offer both condos for sale and equally luxurious apartments for rent — and it's no small wonder, since they combine great locations and excellent amenities, with high-end homes. By example, the Christian de Portzamparc–designed Prism at Park Avenue South offers an ideal location in Nomad, not to mention a full suite of recreation-oriented amenities; and the iconic One57 features ultra-luxe apartments with breathtaking views, all along Billionaire's Row. Of course, there's also the 39th floor of the Pierre Hotel, famously the priciest apartment rental in NYC with its monthly rent of a cool $500,000. It made waves last December when an international renter signed a lease. Of course, the hotel provided "a language-specific butler and concierge service and a chauffeur-driven Jaguar" to sweeten the deal.