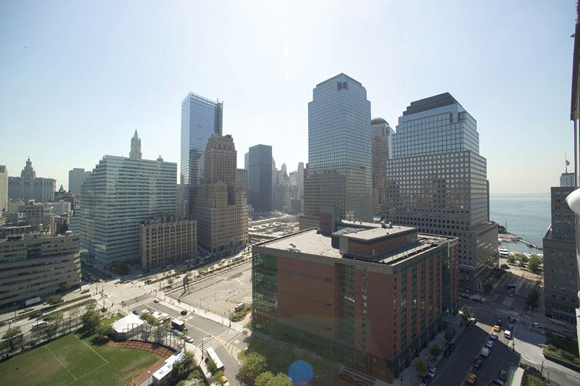 Battery Park City, bordered by the Financial District on West Street, is planned community located on the southwestern tip of Lower Manhattan and a prominent example of community renewal. Surrounded by the Hudson River on three sides, this 92-acre stretch of land has grown into an intimate part of New York City that flawlessly balances urban living with an array of scenic views and green spaces.
An underrated city option, Battery Park City has a number of luxury rental buildings that deserve your attention. Furthermore, much like the vibrantly green areas that make this section of Lower Manhattan so serene, these buildings contain multiple LEED aspects about them. Here are five that best reflect the charm of this stunning piece of Lower Manhattan.
The Verdesian
Battery Park City boast a number of parks for lounging around and enjoying the environment. The Verdesian takes this to heart as one of a number of green buildings throughout the city. 211 North End Avenue takes pride in its focus on the quality of living for its residents. From its central air filtration system in all of its apartments, high-end EnergyStar appliances, and highly insulated windows, it's no question why this 2006 development was the first residential high-rise to be awarded Platinum LEED certification in the United States.
For what the building puts into satisfying its green status, the Verdesian doesn't skimp on luxury amenities. With 24-hour garage with valet service, bike storage, fitness center and health club, children's playroom and laundry service, the Verdesian speaks to all of your needs. And if there isn't enough green outside the building's front door, you can head to the rooftop and enjoy the garden's stunning city views.
Rector Square
225 Rector Place is a sleek, 2007 conversion building that takes luxury living to the next level. This 24-story rental building towers over Rector Park and is perfectly located for a short walk north to Tribeca while the Financial District stems off to the east. Amenities don't fall anything short of ultra-luxe with highlights, including its 40-foot-long indoor pool, two story fitness center, yoga studio, and rooftop terrace that provides outdoor dining. Other perks include a garage with valet service, 24-hour concierge, children's playroom, and an indoor lounge off of the rooftop terrace.
Rector Square, resembling an "L" shape in design, promises views of the Hudson River, gorgeous Lower Manhattan skyline, Rector Park, or the southern end of Battery Park City.
Liberty Luxe/Liberty Green
The best things in life truly do come in pairs. Take sister buildings Liberty Luxe and Liberty Green for example. At 200 North End Avenue and 300 North End Avenue respectively, these 2010 developments are both LEED gold certified.
This is a pair that packs a punch. Rising over Battery Park City's Esplanade and ensuring outstanding panoramic views of the city and its landmarks, such as the Statue of Liberty, both buildings boast, 24-hour doorman and concierge, game rooms, and a landscaped rooftop terrace.
Unlike Liberty Green, Liberty Luxe is home to the Asphalt Green Battery Park City location. This community center has a long list of activities, for kids and adults, in sports, fitness classes, and aquatics, which Liberty Green residents are just as welcome to enjoy.
Tribeca Park
Designed by Robert A.M. Stern, 400 Chambers Street provides top amenities outside as it does in. Topped off with a wooden water tower and perfectly situated near Teardrop Park and Nelson A. Rockefeller Park, Tribeca Park is settled away from a hustle and bustle that's more apparent in other neighborhoods around the city.
The parks spill into the building's space via a landscaped, 19th floor rooftop sun terrace that's complete with lounge chairs, tables, and BBQ grills, a sculpture garden that can be found just outside the main lobby, and a private lawn. If a little more privacy is desired for group gatherings, you can reserve the party room in the entertainment lounge. Whether you bike or drive, you can enjoy the storage and a garage for both, respectively.
Hosting a great selection of other amenities, Tribeca Park is a fine example of high-end city living in a flattering Manhattan location.
The Solaire
What's praiseworthy about 20 River Terrace is how much it does for its residences without requiring much. LEED gold certified, the Solaire is outstandingly energy-efficient, consuming 35 percent less energy, 65 percent less electricity, and requires 50 percent less water than a standard residential high-rise building.
The Solaire's energy-centric outlook extends into its kitchen where the cabinets are constructed from Forest Stewardship Council-certified wood and EnergyStar appliances have been installed. Tons of natural light is provided through the building's floor-to-ceiling windows that are also well insulated.
Amenities are plentiful at the Solaire. There's a 24-hour concierge and a video security system in the building. Similarly, the Solaire also has Buildinglink, an internet-based, full-service, communication system. Residents can enjoy the exclusive, landscaped rooftop garden, and health club with aerobics room. And if you forget your house chores due to being distracted by all the luxe amenities, you can utilize the maid service.