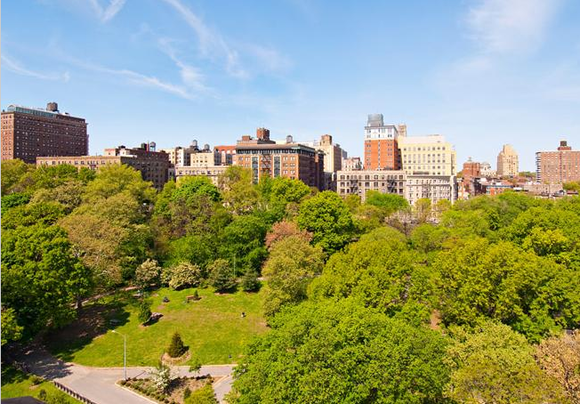 Harlem may be deemed as one of New York City's up-and-coming neighborhoods, but with its unsurmountable musical history, cultural and culinary hipness, and great location near notable destinations such as The Apollo Theater, Columbia University, and Central Park, the Northern Manhattan neighborhood is, to the well-trained eye, already as prominent as its borough brethren.
And with that prominence comes luxury living that's just as top-notch. With Harlem gaining more and more recognition among apartment hunters, here are a few of the buildings that certify Harlem as a top residential destination.
Susan's Court
If you're Harlem bound, it's a fine idea to put the lady first and Susan's Court surely proves that you should. Located at 454 Manhattan Avenue, Susan's Court falls center stage among Harlem's top locations. Morningside Park, which separates the building from a direct walk to Columbia University, is a fine option if the walk to Central Park is declared too hefty for residents. (And surely, no resident would come to that conclusion, plus two parks in one day is never a bad thing!)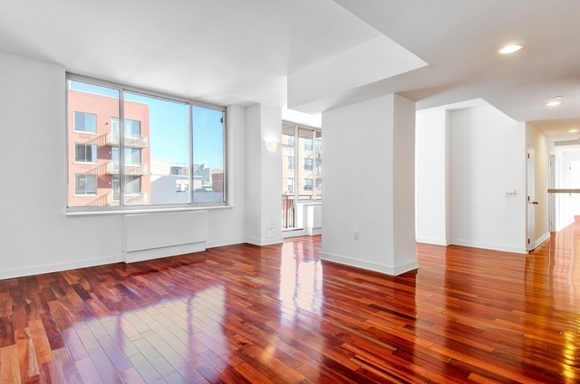 The eight floor building may not compete in height with the rest of Manhattan, but it delivers the necessities of luxury living. Monitor the coolness or warmth of your apartment with its individual A/C and heating, enjoy the silence with the apartments' double-paned windows, boast about the beauty of your kitchen with its stainless steel appliances, solid maple cabinetry, and quartz countertops, and don't worry about parking by utilizing the building's garage. And don't think you can't take in Manhattan's views with the building's rooftop deck, and if you prefer life a little closer to the ground, the landscaped courtyard ought to do just fine.
Dafina
The building at 2130 Adam Clayton Powell Boulevard may only have seven floors, but it also packs a punch of luxe. With rooms accented in Brazilian cherry hardwood flooring and large windows that welcome natural light, the spacious, open layouts are pleasantly emphasized.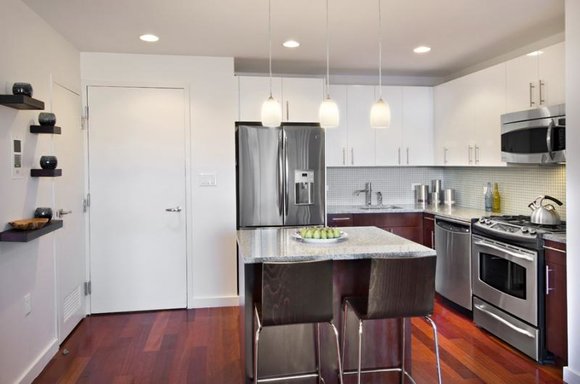 But what may add the most appeal to the apartments at Dafina is the sense that your needs are, surely, put first. Don't worry about trekking to the basement or outside to do laundry, because each apartment has its own washer and dryer. Take comfort that your pet is allowed in the building and entertaining friends and family should be a breeze with options like a lounge, billiards, and of course, a rooftop deck. How could you not say definitely to Dafina?
Hampton Court
Situated by the Harlem River and designed by Stephen B. Jacobs Group with interiors by Andi Pepper, this 2002 built residence has the charm of ultra-luxe residence without being too overwhelming with the amenities. With a 24-hour doorman, full-service garage, fitness center and health club, private storage, and bike room, just to name a few, Hampton Court doesn't skimp on four star service.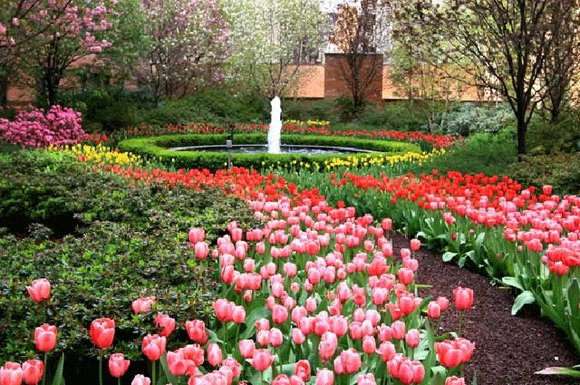 But the showstopper of this U-shaped building is its garden. Residents can enjoy the four seasons contained in this large, fully landscaped opening at the building's center. Enjoyably private, the garden serves as a great option of enjoying the outdoors if you prefer a more intimate setting than the public Central Park, which is only two blocks away.
Avalon Morningside Park
On the cusp of the Upper West Side and adjacent to Morningside Park (it's also close to Central Park with a mere two block walk), this building is probably one of the two, along with 1080 Amsterdam, that most resemble a typical Manhattan development in terms of height — and it offers just as much.
The oakwood floored apartments at 1 Morningside Drive are well equipped. Each has its own washer and dryer and gourmet kitchen (many with a breakfast bars), which come with luxe appliances that include a dishwasher and frost-free refrigerator with ice maker.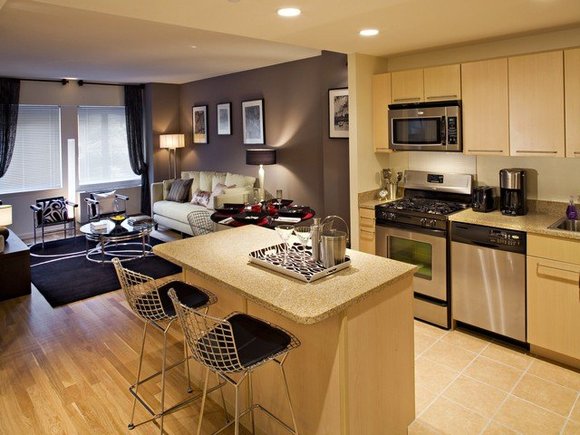 Of course, there's plenty more that makes Avalon Morningside Park a viable contender among Harlem apartments. Besides its great location near three parks and great public transportation options, the building is also very eco-friendly. A smoke-free building since November 2014, Avalon boasts Energy Star appliances, smart rain sensors to reduce water consumption, sustainable lighting techniques to reduce energy consumption, and energy-efficient windows. Utilize the yoga room or fitness center, which includes a cardio theater, or go out for a bike ride knowing that racks and storage for your two-wheeler is available.