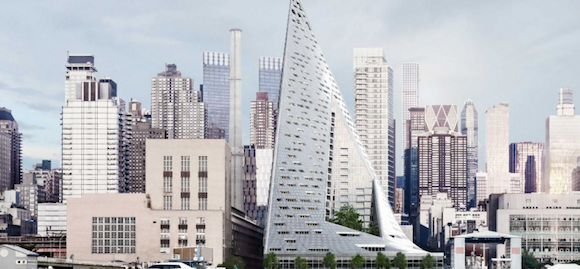 Facade of VIA 57th West, designed by Bjarke Ingels.
Bjarke Ingels' latest residential project in NYC, VIA 57th West, is one of the most remarkable projects to hit Manhattan's streets in a long time.
Eschewing the mainstream trend of supertall spires, it instead takes the form of a tetrahedron (frequently and erroneously described as a pyramid at the project's outset) with a wide base. Found on Manhattan's far west side, this project exactly embodies Bjarke Ingels' interdisciplinary approach to architecture and design.
In addition to its unconventional shape, it showcases eco-friendly benefits, both in its construction and its individual apartment finishes. Energy and water conservation systems and methods add to the residential building's green appeal; and residents are sure to appreciate the consistent air quality and regulated acoustics. As an added benefit, many apartments also have balconies opening towards the Hudson River waterfront, and the building's facade is angled in such a way to maximize the amount of sunlight that comes through its floor-to-ceiling windows.
VIA 57th West rounds it holism with a keen emphasis on amenities, underscoring a 22,000 square foot courtyard exclusive for resident use. The landscaped feature showcases expansive lawns and native plants, as well as seating and barbecue grills. In addition, VIA 57th West also offers a state-of-the-art fitness center with a pool and basketball half-court. Recreation areas include a game room, screening room event room with chef's kitchen, and several residents' lounges, both inside and out.
The Danish starchitect has several projects cropping around the city, including 2 World Trade Center and the BIG U, the latter of which is largely a collaborative effort based around a concept first pitched by the Bjarke Ingels Group. Mr. Ingels recently unveiled his addition to the Hudson Yards megaproject. Dubbed M "The Spiral", this 1,005-foot-tall commercial tower showcases helical greenery wrapping around its form with outdoor terraces and hanging gardens — to put it into his parlance, "extending the High Line into the skyline."