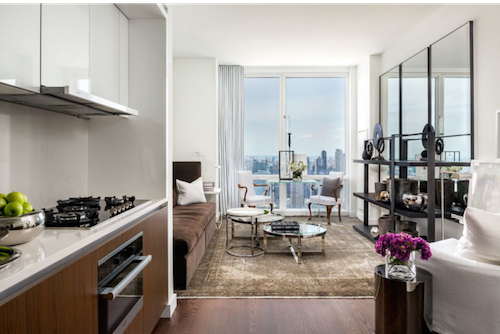 Interior of Sky penthouse by Tim Waltman for Evan Joseph
Sky, at 605 West 42nd Street, is not only the largest rental building in New York City, but also one of the most desirable places to live anywhere in the area for over a year. Now, Moinian Group has teamed with renowned architect, David Rockwell and legendary interior designer, Michael Dawkins to create 83 new ultra luxury apartments to occupy the top five floors of the building.
These new ultra-luxe penthouses all go by a single name—Vue, meant to be a play on words to compliment the name of the building itself—Sky. As you would expect from a penthouse apartment with the term ultra-luxe attached, these homes come with a host of different features and amenities. All Vue rentals come with towel warmers in the bathrooms, walnut floors, quartz countertops in the kitchens, that comes complete with all Miele appliances, and more.
Additionally, Vue residents will still have access to all of Sky's regular amenities that include both indoor and outdoor pools, a private park, a pet spa, and beyond. Tenants will also have access to a courtesy shuttle that runs all day long up and down 42nd street, picking up and dropping off passengers roughly every 15 minutes. Vue tenants who are also willing to pay an additional $199 per month get full, unrestricted access to Sky House, the building's 70,000 square feet of additional amenities.

View from Sky by Tim Waltman for Evan Joseph
With a name like Vue, however, the most important feature that people are likely concerned with is exactly that—the view. People with Vue ultra-luxe penthouse apartments can enjoy breathtaking shots of the cityscape, thanks largely to the fact that they are 65 stunning stories above the street below.
A studio apartment in the Vue begins at $4,035, one bedroom apartments start at $5,500, while two bedroom apartments start at $7,650. There is just a single three bedroom apartment that is a part of Vue for $25,000 a month.
Since its inception, Sky already had 1,175 apartments more than any other building in all of New York City. With the addition of the Vue ultra-lux apartments, the Moinian Group is trying to find a way for the building to become legendary for a second time.