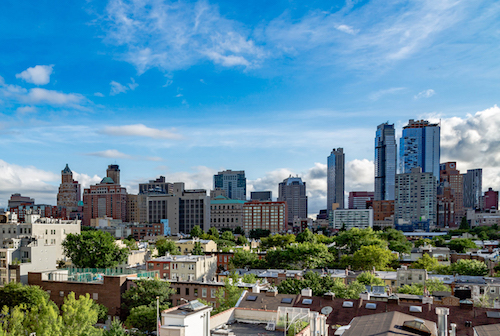 Brooklyn Skyline, photo by
thebrooklyndodger
The Brooklyn skyline is experiencing a revamp, especially in Downtown Brooklyn, with the neighborhood granted permits to build nearly 6,500 new apartments, which are planned to be completed by 2019.
Ava DoBro, which is currently the borough's tallest tower at 596 ft., opened it's doors in September of 2015 and became the first addition to Downtown Brooklyn's new look. The building has it's own entrance to the Subway, servicing commuters who rely on the A, C, F, and R trains. The building has 825 units, with studios beginning at $2,400 a month and three-bedroom apartments at $5,000.
9 Dekalb Avenue will soon be the tallest tower in Brooklyn, soaring at 1,000 ft. The 73-story tower will be a unique addition to the Brooklyn skyline, with its proposed sleek and detailed design.
Recently remodeled 300 Ashland Place is nearly ready for residents, with finishing touches being added in time for doors to open this fall. Designed by Techtonic, pricing for the 35-story building begins at $2,800 for a studio apartment upwards to $5,750 for a two-bedroom flat based on recent available listings.
The anticipated Pacific Park is finally opening some of it's doors, after planning and construction have been underway for nearly a decade. Formerly called "Atlantic Yards", Pacific Park stretches all of Atlantic Avenue between Flatbush Ave. and Vanderbilt Ave. and will include a number of new residential towers and a park area. Residences at 461 Dean Street, 38 Sixth Avenue, and 535 Carlton are gearing up for their grand openings after being topped off this summer.
Despite mixed feelings on a rising Brooklyn, these new developments will alter Brooklyn's skyline significantly, emulating its taller neighbor, Manhattan.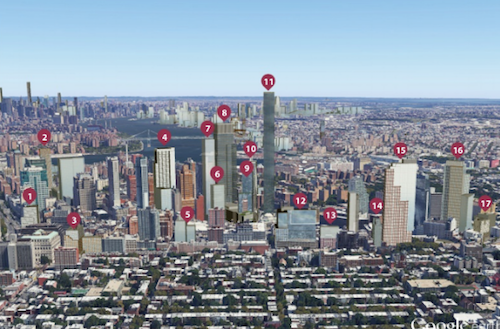 Google Earth rendering of the future Brooklyn skyline via
CityRealty