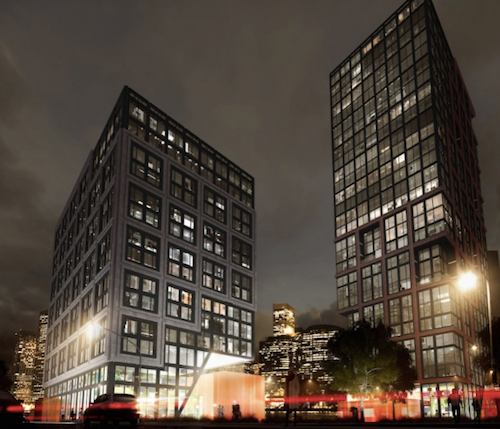 Renderings of the two buildings
In the beginning of the summer, renderings for the last two residential towers set to rise in the park were revealed. At 15 and 50 Bridge Park Drive, ODA Architecture has finally filed plans for the project.
50 Bridge Park will be the taller building, standing 30 stories, while the other at 16. The complex will hold a total of 266 apartments, lowered from the orignal plan of 339.
At 50 Bridge Park alone, there will be 126 units within the 274,550 sqft of residential space. The apartments will average a total of 2,178 sqft each. The ground floor of the building will have a gym, dog washing station, and lobby. From there, the second floor will only hold two units and the 3rd to 25th floors will hold five apartments per floor. On the remaining five floors, four of them will hold four units each, and the top floor will hold some amenities such as a resident lounge and support area.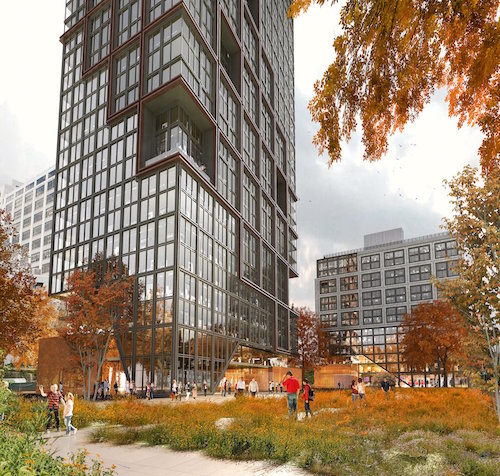 Aerial view of the two rendered buildings
15 Bridge Park Drive will hold 140 apartments averaging around 950 sqft each. The building will also hold 4,181 sqft of retail at the ground floor. The floors following will have up to 10 to 13 units per floor. The building's amenities will include a gym, studio, playroom, and more. The entire 15th floor will hold a private lounge for residents. 100 of the building's apartments will be set aside for affordable housing.